Exercise Balls
Can you really get a good workout by playing with a giant bouncy ball? Yep. We'll get you started and show you moves to target muscle groups and improve coordination and balance.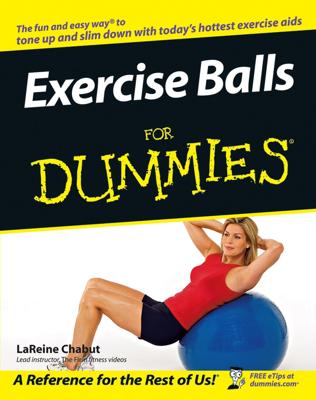 Exercise Balls
Exercise Balls For Dummies
If you want to shape up or lose weight, get on the ball! It's inexpensive. It's something you can do at home. It's effective! However, unless you have a personal trainer, using the exercise ball correctly to get maximum results can be tricky. That's where Exercise Balls For Dummies comes in. You'll discover how to turn an ordinary workout into a super workout that builds strength, increases flexibility, and sculpts a great-looking body. The book includes: Step-by-step details on using exercise balls in your regular workout program Tips on selecting and maintaining equipment Illustrated exercises covering a complete muscle workout: shoulders and upper back; biceps, triceps, and forearms; chest abdominals and lower back; legs and hips: flexibility in general Specific applications for Pilates, weight training, stretching, and aerobic exercise Mat workout routines Admitted couch potatoes can start at the beginning; fitness fanatics can jump right in and integrate the exercise ball into their routines. Exercise Balls For Dummies was written by LaReine Chabut, a fitness model, actress, and writer who owns a women's workout spa and stars in workout videos. Of course, she makes it look easy!
Explore Book
Buy On Amazon