Events
Whether you're trying to set up a party in Eventbrite or plan an important meeting, we've got all the best preparation tips and tricks right here.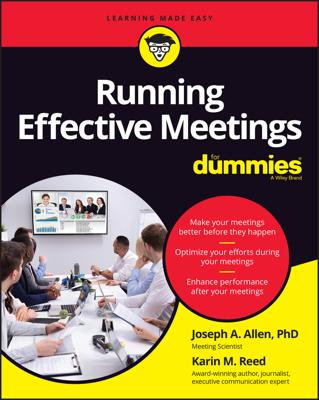 Events
Running Effective Meetings For Dummies
Turn meetings into the best part of your day with this actionable, step-by-step guide Brainstorming meetings. Team meetings. Stakeholder meetings. Zoom meetings. Hybrid meetings. Most of us are part of more meetings than we can even count. And how many of these meetings are actually productive and valuable? Running Effective Meetings For Dummies shows you how to plan, guide, and run a great meeting, whether you're doing it face-to-face, fully virtual, or a combination of both. Authors Dr. Joseph Allen, industrial and organizational psychologist, and Emmy-award winning communications expert Karin Reed team up to walk you through the steps you need to take to make your next meeting your best one yet. You'll learn about: The different kinds of meetings and what each is supposed to accomplish How to prep for a great meeting and set the expectations of all the participants How to be an effective leader by guiding discussion during the actual meeting itself Effective follow-up and evaluation to keep your momentum and continually improve your meetingsStop enduring meeting-fatigue and start making meetings the fun, productive, and engaging events they're supposed to be. Grab a copy of Running Effective Meetings For Dummies today!
Explore Book
Buy On Amazon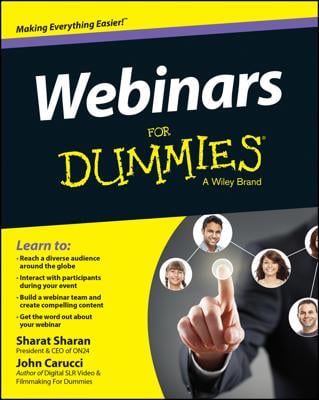 Events
Webinars For Dummies
Gather an audience from around the globe with webinars! Webinars For Dummies takes the guesswork and uncertainty out of webinar creation. Written by John Carucci under the guidance of webinar technology company ON24, the book provides a roadmap for creating a webinar that effectively communicates to the audience without boring them to sleep. Webinars For Dummies gives you the insider's perspective on techniques that have been proven effective time and again. Webinars are becoming increasingly common as a way for businesses to connect with customers and partners without distance being a factor. Whether they take the form of a live presentation, a PowerPoint slideshow, or a combination of both, the beauty of the webinar is that it can be archived and viewed again after the initial set presentation. But this feature also adds a burden to the webinar creator, as the presentation must be understood outside of the live context. Creating what is essentially an archival presentation means considering a host of factors surrounding both content and organization. Webinars For Dummies includes all the information your business needs to start creating custom webcasts, including: A webinar overview, and how to determine your need, budget, and available tools Topic selection, script creation, graphic production, and marketing Creation advice, including live troubleshooting and how to handle viewer questions Archiving tips, and how to integrate webinars into a marketing plan You'll also find special tips for effective production and marketing, tips for readying yourself for the webinar, and case studies that illustrate successful webinar techniques. Modern business is rarely localized, and webinars are an effective way to communicate live, on a global scale. Webinars For Dummies helps you ensure your business doesn't get left behind.
Explore Book
Buy On Amazon
Events
Business Meeting & Event Planning For Dummies
Hold productive meetings and events with help from Dummies It's a whole new world out there. With so many companies, big and small, electing to move to virtual or hybrid operating models, meetings have arguably become more important than ever as the primary way teams communicate day-to-day. But how do you maximize engagement when a screen sits between you and your coworkers? In Business Meeting & Event Planning For Dummies, expert author Susan Friedmann shares her tips and insider tricks for navigating virtual and hybrid gatherings without missing a beat. Armed with top-notch guidance and insider tips from Dummies, you'll be able to streamline meetings to maximize efficiency and save money – on or offline. Create effective and exciting business events and presentations Keep on time and on budget, maintain group engagement, and use social media to your advantage Discover best practices, proven tips, and technical adviceIf you're a professional who wants to make the most of business meetings, this is the Dummies guide for you. It's also a valuable resource for anyone who needs to plan a large-scale event (seminar, convention, etc.).
Explore Book
Buy On Amazon