Customer Service
How can you improve customer engagement and build loyalty? Offer consistently great customer service. Here's what that means.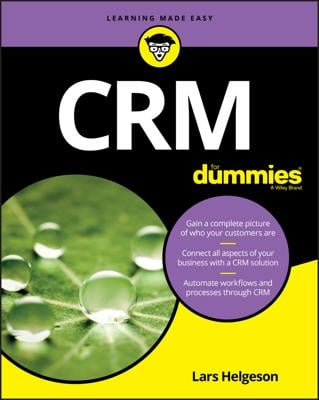 Customer Service
CRM For Dummies
Save time, save money, and grow your business with more effective CRM CRM For Dummies is the small business leader's guide to managing customer interactions. Customer relationship management is a critical part of any business, and it encompasses everything from business strategy and HR to sales, marketing, events, and more. Solutions exist for businesses of any size, but how do you know which one is right for you? What features do you need? Do you have the people and processes in place to get the most out of whichever one you choose? This book is designed to help business leaders better understand effective CRM and identify the right solution for their business—but it's about much more than software; effective CRM requires appropriate team structures, intradepartmental collaboration, and process efficiency. Packed with tactics and strategies that will save your company thousands of dollars and man-hours, these chapters answer the most pressing questions that will make the biggest impact on your sales. Building relationships with current and future customers is the critical point of business. This book helps you bring sales, marketing, and operations together to work toward that common goal, and shows you the tools and techniques that make your efforts more effective. Define your market segments, buyer personas, and voice Build an effective internal structure, and choose the right CRM solution Optimize leads and conduct effective email marketing Streamline processes, automate where possible, and employ analytics Your customers are the lifeblood of your company; you need to reach them, engage them, and retain them—without wasting precious time or money. CRM For Dummies gets you up to speed on the latest, most effective CRM tools and techniques to help your business succeed.
Explore Book
Buy On Amazon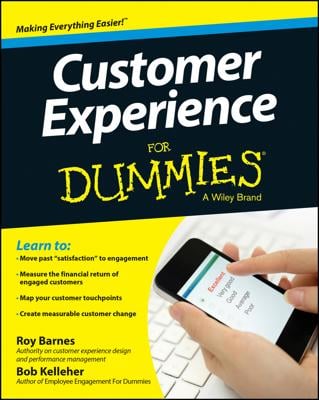 Customer Service
Customer Experience For Dummies
Gain, engage, and retain customers with positive experiences A positive customer experience is absolutely essential to keeping your business relevant. Today's business owners need to know how to connect and engage with their customers through a variety of different channels, including online reviews and word of mouth. Customer Experience For Dummies helps you listen to your customers and offers friendly, practical, and easy-to-implement solutions for incorporating customer engagement into your business plans and keep the crowds singing your praises. The book will show you simple and attainable ways to increase customer experience and generate sales growth, competitive advantage, and profitability. You'll get the know-how to successfully optimize social media to create more loyal customers, provide feedback that keeps them coming back for more, become a trustworthy and transparent entity that receives positive reviews, and so much more. Gives you the tools you need to target customers more precisely Helps you implement new social and mobile strategies Shows you how to generate and maintain customer loyalty in order to achieve success through multiple channels Explains how a fully-engaged customer can help you outperform the competition Learn how to respond effectively to customer feedback Your brand's reputation and success is your lifeblood, and Customer Experience For Dummies shows you how to stay relevant, add value, and win and retain customers.
Explore Book
Buy On Amazon