Common Core
Puzzle out these must-know math standards and learn essential tips for helping your student through, at every level of school.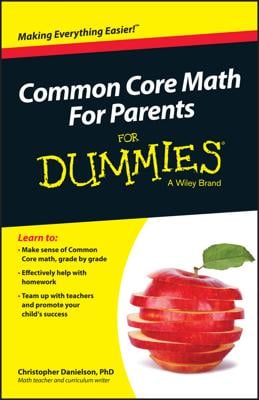 Common Core
Common Core Math For Parents For Dummies with Videos Online
Help your child succeed with a better understanding of Common Core Math Common Core Math For Parents For Dummies is packed with tools and information to help you promote your child's success in math. The grade-by-grade walk-through brings you up to speed on what your child is learning, and the sample problems and video lessons help you become more involved as you study together. You'll learn how to effectively collaborate with teachers and keep tabs on your child's progress, so minor missteps can be corrected quickly, before your child falls behind. The Common Core was designed to improve college- and career-readiness, and to prepare U.S. students to be more competitive on an international stage when it's time to enter the workforce. This guide shows you how the standards were created, and how they've evolved over time to help ensure your child's future success. The Common Core Math Standards prepare students to do real math in the real world. Many new teaching methods are very different from the way most parents learned math, leading to frustration and confusion as parents find themselves unable to help with homework or explain difficult concepts. This book cuts the confusion and shows you everything you need to know to help your child succeed in math. Understand the key concepts being taught in your child's grade Utilize the homework tools that help you help your child Communicate more effectively with your child's teacher Guide your child through sample problems to foster understanding The Common Core was designed to ensure that every student, regardless of location or background, receives the education they need. Math skills are critical to real-world success, and the new standards reflect that reality in scope and rigorousness. Common Core Math For Parents For Dummies helps you help your child succeed.
Explore Book
Buy On Amazon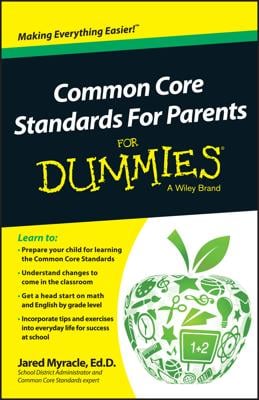 Common Core
Common Core Standards For Parents For Dummies
A parent's guide to understanding the Common Core educational standards Designed to ensure a similar level of job and college preparedness for students from all backgrounds and regions, the Common Core standards have been adopted in 45 states from coast to coast. These new common standards are designed to bring many diverse state standards into alignment with each other in math and English to create a set of national educational standards. Common Core Standards For Parents For Dummies explains this new set of standards, what it means for students, and how parents can get their children prepared for the school year. Explains what changes to expect in the classroom Includes a grade-by-grade explanation of the new math and English standards Provides tips and exercises for helping students succeed For parents who want to help their kids excel at school, Common Core Standards For Parents For Dummies is a handy, straightforward guide that explains everything they need to know.
Explore Book
Buy On Amazon