Audits
Contingent liabilities? Cash accounts? Fixed-asset control risk? We've got the lowdown on all your auditing questions.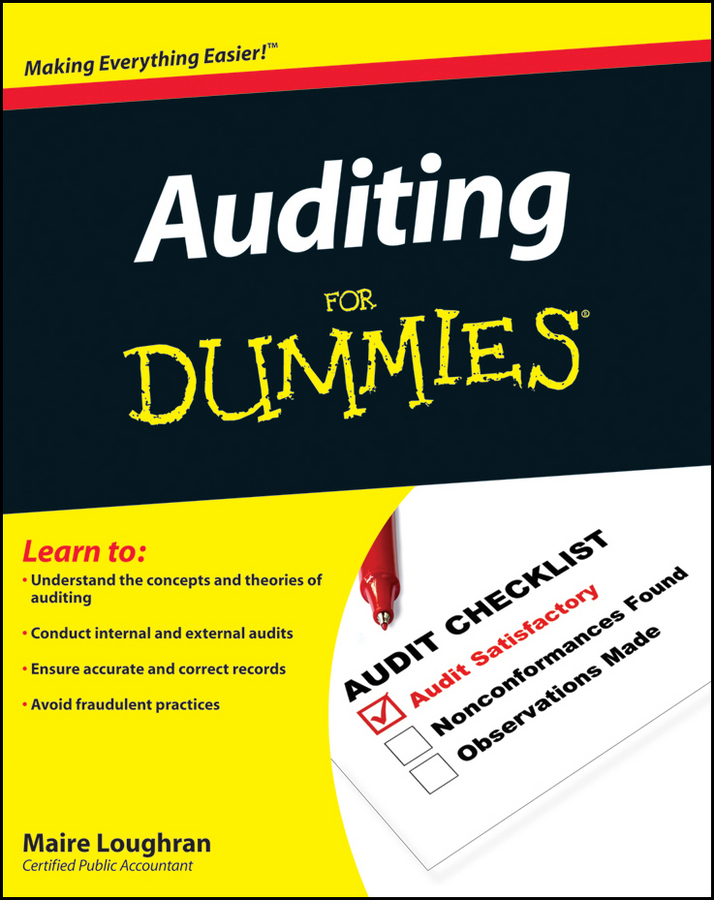 Audits
Auditing For Dummies
The easy way to master the art of auditing Want to be an auditor and need to hone your investigating skills? Look no further. This friendly guide gives you an easy-to-understand explanation of auditing — from gathering financial statements and accounting information to analyzing a client's financial position. Packed with examples, it gives you everything you need to ace an auditing course and begin a career today. Auditing 101 — get a crash course in the world of auditing and a description of the types of tasks you'll be expected to perform during a typical day on the job It's risky business — find out about audit risk and arm yourself with the know-how to collect the right type of evidence to support your decisions Auditing in the real world — dig into tons of sample business records to perform your first audit Focus on finances — learn how both ends of the financial equation — balance sheet and income statement — need to be presented on your client's financial statements Seal the deal — get the lowdown on how to wrap up your audit and write your opinion After the audit — see the types of additional services that may be asked of you after you've issued your professional opinion
Explore Book
Buy On Amazon
Audits
SAP GRC For Dummies
Governance, risk, and compliance—these three big letters can add up to one giant headache. But GRC doesn't have to be a boil on your corporate behind. SAP GRC For Dummies untangles the web of regulations that confronts your company and introduces you to software solutions the not only keep you in compliance, but also make your whole enterprise stronger. This completely practical guide starts with a big-picture look and GRC and explains how it can help your organization grow. You'll find out why these regulations were enacted; what you can do to ensure compliance; and how compliance can help you prevent fraud, bolster your corporate image, and envision and execute the best possible corporate strategy. This all-business handbook will help you: Understand the impact of Sarbanes-Oxley Control access effectively Color your company a greener shade of green Source or sell goods internationally Keep your employees safe and healthy Ensure that data is kept secret and private Manage information flow in all directions Enhance your public image through sustainability reporting Use GRC as the basis for a powerful new corporate strategy Complete with enlightening lists of best practices for successful GRC implementation and conducting global trade, this book also puts you in touch with thought leadership Web sights where you can deepen your understanding of GRC-based business strategies. You can't avoid dealing with GRC, but you can make the most of it with a little help from SAP GRC For Dummies.
Explore Book
Buy On Amazon
Audits
Sarbanes-Oxley For Dummies
You may not believe that there's a fun and easy way to comply with Sarbanes –Oxley, but once you have Sarbanes-Oxley For Dummies, Second Edition in front of you, you're sure to change your mind. This friendly guide gets you quickly up to speed with the latest SOX legislation and shows you safe and effective ways to reduce compliance costs. In plain English, this completely reliable handbook walks you through the new and revised SOX laws, introduces compliance strategies for changed and unchanged guidelines, and gives you an effective framework for implementation You'll find out how to create an efficient audit committee, purchase and use SOX software solutions, and make practical, cost-effective decisions in your initial compliance year and beyond. You'll also find proven strategies for staying public or going private and learn how to deal with all those SOX forms. Discover how to: Establish SOX standards for IT professionals Minimize compliance costs in every area of your company Survive a section 404 audit Avoid litigation under SOX Anticipate future rules and trends Create a post-SOX paper trail Bolster your company's standing and reputation Work with SOX in a small business Meet new SOX standards Build a board that can't be bought Comply with all SOX management mandates Complete with invaluable tips on how to form an effective audit committee, Sarbanes-Oxley For Dummies is the resource you need to keep your SOX clean.
Explore Book
Buy On Amazon