Professional Resume Format: Focusing on Formal Training and Experience
Professional Resume Format: Focusing on Formal Training and Experience
A professional resume format (or professional vitae), is typically three to five pages long, but factual. The professional format emphasizes professional qualifications and activities. It is essentially a shortened version of the academic curriculum vitae resume format.
When you create a resume using the professional format, begin with education, professional training, and an objective. Follow with a summary of the main points you want the reader to absorb. After that, include the details of your professional experience and accomplishments.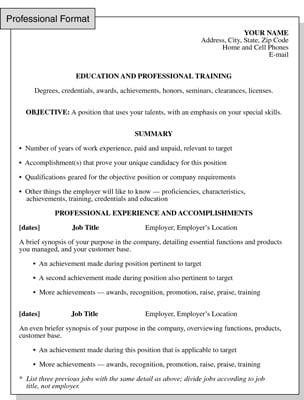 Click here to view this resume.
Strengths and weaknesses of this resume format
The professional resume is mandatory for certain kinds of positions; your choice is whether to send this type or go all the way and send an academic curriculum vitae resume.
But be aware that professional resumes are reviewed under a microscope; every deficiency stands out. Adding a portfolio that shows your experience-based work skills may compensate for missing chunks of formal requirements. Just make sure that any unsolicited samples you send are high quality and need no explanation.
Who should (and shouldn't) use this resume format
Professionals in medicine, science, and law should use this format. Also use it when common sense of convention makes it the logical choice, as when you're applying for a leadership civil service appointment in government. For most nonprofessionals, especially managers, the professional format is tedious.