How to Write the Summary Section of Your Resume
How to Write the Summary Section of Your Resume
Your OnTarget resume needs to provide an overview of your strengths and key talents to show that you have what it takes to excel in that position. This is known as your summary section.
A summary typically contains the three to five skills and competencies — sometimes more — that best support your job aspiration. The data in your statement need not be proven with examples in this brief section. In effect, you're saying, "Here's who I am and how I stand out from the equally qualified competition." The summary is your teaser commercial, encouraging the reader to hang in there for proof of what the opening claims.
Here's a quick peek at a strategic summary with an objective header statement and key skills section so you can get the whole picture.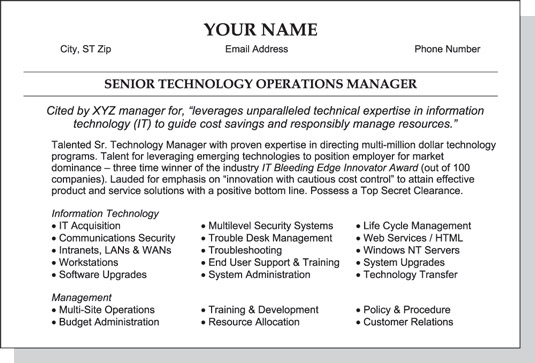 A strong summary section supports your objective header statement and leads into your key skills section.
A summary is known by many names. Among the most popular are areas of expertise, skills summary, highlights summary, asset statement, power summary, career highlights, career summary, career profile, career focus, summary of qualifications, unique selling proposition, and accomplishments profile.
Maximizing the summary section
Only initially, when you create your Core, one-size-fits-all resume, does this section have all your strengths. However, when you go OnTarget to impress an employer that you are a job match, it will be critical to make this section tight and dynamic toward the job for which you're applying.
This brief section, which is typically 1 or 2 short paragraphs, a list of bullets, or a combination of the two, provides your 30-second commercial to a prospective employer on why you are a match worth pursuing. This section builds trust and excitement that you not only have the skills required but will also be a return on investment for the company that hires you.
Summaries offer an easy way to identify the qualifications you have that match a particular job's requirements. This section may also identify qualifications that position you for related positions you don't know about in a given career field.
The only disadvantage to using a summary can come from user error. Specifically, if you try to oversell yourself with irrelevant data that you think makes you look better, you instead appear to be overqualified or confused, neither of which lands your resume a second look.
Selling yourself in your summary
When you attempt to meet the employer's position needs in your summary with generic words and phrases such as "good communicator" or "works well with others," all you do is group yourself in the huge pool of applicants who have the basic skills for the position. Your summary needs to sell what is called your unique selling proposition, or USP.
To identify your USP, look at two areas:
Your CAR stories during your career. CAR stands for challenges you've faced, actions taken to resolve them, and results attained. Consider your own CAR stories. Do they demonstrate an ability to turn around failing operations, to identify and institute cost savings, and/or to create processes that save time (and thus money)? Look for these bottom-line strengths and then translate them into your summary with your unique value stated such as in the following two examples:

Visionary Operations Manager with a proven reputation for slashing expenses, turning around operations, and creating positive culture that consistently results in multimillion-dollar revenue gain.

High-energy Administrative Assistant who excels at meeting the needs of a team of busy executives and technical engineers. Talent for identifying opportunities to create tracking and data management processes, which result in up to 30 percent time savings.

Your key selling features. These include degrees, certifications, licenses, awards, and even publications that make you stand out for your target job. For instance, if you are a marketing professional who made the Twitter Top 50 Pros to Follow list, or you published a book on a key topic, highlight these accomplishments in your summary. For example

Recognized authority on web development. Authored The Authoritative Guide to WordPress (XYZ publisher); book has been called "The one reason to read" in press reviews.

Attained <Certification Name> credential — a qualification held by only 30 professionals worldwide.
An accomplishment is a key selling feature only if it makes you stand out from the competition. That's why it's called a unique selling proposition. So if a certification is listed as a prerequisite for the position or it positions you as uniquely qualified, include it in your summary section.
But, on the other hand, if you have an MBA that's not requested or that's too common of a qualification to take up valuable summary space, leave it in your education section where it belongs.