Academic Curriculum Vitae Resume Format: Jobs for PhDs
Academic Curriculum Vitae Resume Format: Jobs for PhDs
The academic curriculum vitae resume format is a comprehensive biographical statement, typically three to ten pages, emphasizing professional qualifications and activities. An academic curriculum vitae (CV) resume of six to eight pages, ten at the most, is recommended for a veteran professional; two to four pages is appropriate for a young professional just starting out.
If your CV is more than four pages long, show mercy and save eyesight by attaching an executive summary page to the top. An executive summary gives a brief overview of your qualifications and experience.
Among various possible organizations of the CV format, the following sample template (a variation of the hybrid resume format, but with exhaustive coverage) illustrates a lineup of your contact information, objective, qualifications summary, skills summary, and professional background.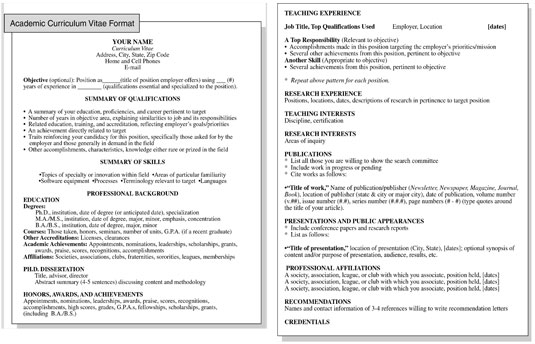 Click here to view this resume.
Create a comprehensive summary of your professional employment and accomplishments: education, positions, affiliations, honors, memberships, credentials, dissertation title, fields in which comprehensive examinations were passed, full citations of publications and presentations, awards, discoveries, inventions, patents, seminar leadership, foreign languages, courses taught — whatever is valued in your field.
Strengths and weaknesses of this resume format
The academic curriculum vitae resume presents all the best of you, which is good, but for people with aging eyes, a CV may be too reading-intensive. More important, weaknesses in any area of your professional credentials are relatively easy to spot.
Who should (and shouldn't) use this resume format
Anyone working in a PhD-driven environment, such as higher education, thinktanks, science, and elite research and development groups needs to use this format. Anyone who can avoid using it should do so.