How to Request a Pay Raise in a Current Job
How to Request a Pay Raise in a Current Job
You're not alone if your pay rate is among the most important factors in choosing a job. In late 2012, an online Harris Interactive survey for Career Builder found that 70 percent of nearly 4,000 full-time workers nationwide said "Show me the money" when asked which job factors were most important to their sense of job satisfaction.
Employers were sent the message that increasing salaries is rated the best way to keep employees from departing the premises. Other factors count, too, but bumping up paychecks is the name of the game.
So now you know what you need to do if a pay raise doesn't appear automatically as part of a normal performance review cycle: You raise the issue of your raise.
Obviously, it's a misstep to burst in on your boss unannounced and exclaim, "Hey, Scrooge, you owe me a pay raise!" You need an appointment to discuss the seriousness of your request. But exactly how to set up that appointment is the great divide where opinion splits. Both sides have merit, depending on differing situations.
Opinion A: Ask to meet, but don't say exactly what about
Face-to-face is always the best way to discuss compensation so that you have the opportunity to develop a two-way dialogue about your hoped-for raise. So when you ask for an appointment, it's a good idea to be a bit vague about your objective.
But won't your manager feel sandbagged if you gloss over the purpose of the appointment only to be put on the spot without advance notice of the topic? It could happen.
On the other hand, if you define the topic in advance, it's much too easy for your manager to reply that a raise isn't possible at this time and refuse the meeting. "Don't let that happen!" advises Debbie Ellis, MRW, of the Phoenix Career Group in Houston, Texas.
Here's Ellis's sample phrasing for an appointment-seeking e-mail that doesn't shut down your prospects too quickly:
Because being successful in business is a two-way street, I am very interested in talking with you about how I can contribute more to the bottom line of ABC. May we set aside 20 minutes next week to discuss my role and development?
I appreciate your advice and am willing to make myself available at a date and time that works for you. With my thanks in advance for your consideration.
Opinion B: Ask to meet, but be direct about the topic
Write the boss an e-mail treating your appointment as a business meeting, which it is:
Working here is my ideal job, and I'm grateful for the opportunity. I would like to meet with you to further discuss the financial value I bring as a player on your team. Please let me know the best time for you.
Alternatively, when you've been tasked with additional duties, try this e-mail approach:
I'm delighted you have chosen me to handle additional responsibilities. I won't let you down. I hope to meet with you as soon as your calendar is open to talk about some details of my new responsibilities and the possibility of a pay increase for accomplishing them to your satisfaction.
Still another approach to set the tone of the raise appointment reflects an employee writing as a mentor for an unpaid intern:
You appointed me to be Karl Witt's mentor during the past five months of his internship. Karl is graduating this year and I'd like to meet with you next week to discuss why I think he should be retained for regular employment at the normal starting rate.
When would be the best time for you? y week is jammed Tuesday and Wednesday, but otherwise, I can bend my book to make room for this important conversation.
Regardless of which approach — vague or specific — you choose to book an appointment to discuss your hoped-for raise, begin immediately to compile your persuasive facts.
Right things to say
Keep the following points in mind when preparing your face-to-face statement:
You enjoy your job and very much like working here.

Your accomplishments matter to the company: Give one or more examples. Especially mention several times when you went beyond your job description to make money or save money for the company.

Mention what you've done to overcome your deficits, such as achieving additional education or training, self-study, or practice. Show your commitment. Show that you know how to learn.

Conduct market research on such free salary websites as salary.com, payscale.com, glassdoor.com, and indeed.com. Knowing current market rates for what you do arms you to speak knowledgably about pay for your job. If you say that you're being paid under market rates, you need authoritative data to back up your claim.

Incorporate such phrases as "I hope you'll consider" and "when the timing is right." You're not demanding; you're negotiating.
Wrong things to say
Never say "Give me my raise or I quit" or "I have another offer. Can you match it?" No one is irreplaceable. When backed against the wall, many managers will simply ask how soon you want to leave. Negotiate on your own merits without a high-drama threat.
Present a request statement at your pay raise meeting
At the beginning of your appointment, hand your manager a short letter that makes your case. Your statement will facilitate the discussion, as well as provide a record of it for final decision makers.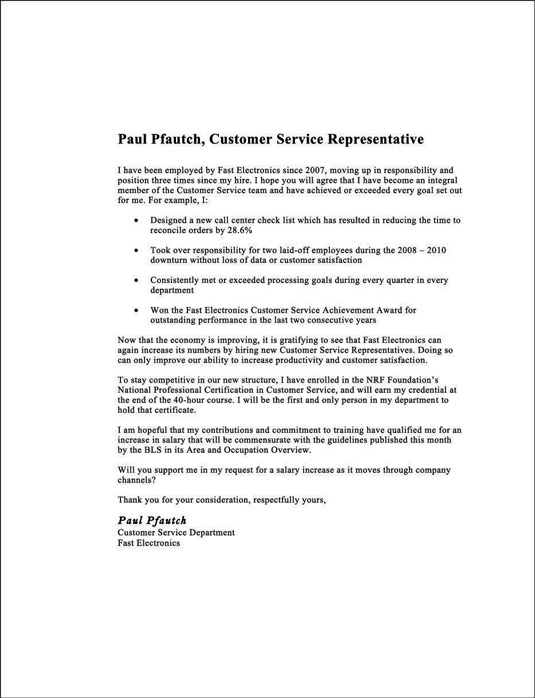 Credit: Debbie Ellis, MRW, Phoenix Career Group — Houston, Texas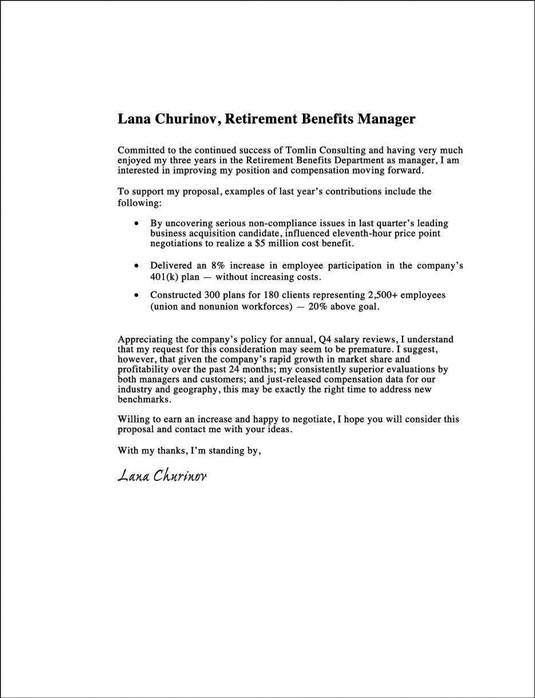 Credit: Debbie Ellis, MRW, Phoenix Career Group — Houston, Texas