10 Websites for Practicing Coding
10 Websites for Practicing Coding
Before taking the plunge and committing to learning how to code, you may want to practice first to see how you like it. Or perhaps you've already starting learning by yourself, through a coding boot camp, or in school, and you're looking for additional resources to stay sharp and cement what you already know.
The resources listed here are some of the best material available to learn how to code across a variety of programming languages. Many of these resources are free — if you find them useful, make sure you give back to the community by answering questions on discussion boards or by blogging about your experience.
Learning-to-code websites
Each person has his or her own style when learning to code. You may want to dive right in with interactive exercises, or you may want to understand high-level concepts with readings and lectures first. Regardless of your learning preference, the key to successfully learning to code is to keep practicing. The pace at which new frameworks and libraries are created today is so fast that even the most seasoned professional continues to learn just like you.
Codecademy
Codecademy was created for people with no previous programming experience and is the easiest way to learn how to code online You can use the site to
Learn front-end languages such as HTML, CSS, and JavaScript

Try back-end languages such as Ruby, Python, and PHP

Build real pages from websites such as Airbnb, Flipboard, and Etsy
Front-end languages address website appearance, whereas back-end languages add website logic, such as what to show users and when.
You don't need to download or install anything to start coding at Codecademy — just sign up or sign in and start learning.
If you get stuck, check for a hint at the bottom of the instructions, or click the Q&A Forum link to ask a question or to see whether someone has already posted a solution to your problem.
Coursera and Udacity
MOOCs, or massive open online courses, are classes or courses taught via the Internet to a virtually unlimited number of students. These courses encourage the use of online forums and interactivity to create a sense of community. Coursera and Udacity, two of the biggest MOOCs, have a variety of coding-related courses. Each course is taught through a series of video lectures by a university faculty member or an industry expert. Here is the web page for Intro to Computer Science, taught by University of Virginia Professor David Evans on Udacity.

After watching video lectures, your homework assignments and projects help reinforce what you've learned. Each site offers optional paid features, such as certificates of completion or individual support, but you don't have to pay anything to access the base material. The strength of these sites is the hundreds of hours of video dedicated to technology topics such as front-end web development, mobile web development, data science, and general computer science theory.
Before you start a course at either website, make sure you can set aside time for study each week. You can expect to devote 5 to 10 hours per week for 7 to 10 weeks for any of these courses.
Code School and Treehouse
Code School and Treehouse are two online learning websites devoted to teaching people how to develop websites with languages such as HTML, JavaScript, Ruby, and Python. Both sites use video lessons and interactive coding exercises, and have large communities so people can help you if you get stuck.
The two sites charge between $25 to $30 per month, and each has a free trial so you can get a feel of the website and the instructors before paying.
Both websites have established their credibility by working with partners to increase access to coding. Code School partnered with Google to provide free accounts to women and minorities, and Treehouse has worked with the US Department of Labor to help people in states such as Kentucky and Indiana learn how to code.
Bitfountain
More people buy mobile phones each year than laptop or desktop computers, making mobile web development valuable and in demand. Bitfountain has online courses that teach you iOS, including courses for the Apple Watch, and Android development with video lessons and example apps to practice what you've learned.
Most lessons cost from $50 to $150. However, the iOS 7 Objective-C course is free, includes 350 videos, and culminates by teaching you how to build a Tinder app clone.
To build iOS apps, you need to have a Macintosh computer and must download and install Xcode, Apple's code editor. To make following along easier, make sure you download the same version of Xcode used in the videos.
DataCamp
R is quickly becoming the most popular programming language for data scientists when analyzing large data sets. DataCamp teaches you R in the browser without needing to download or install any software.
Interactive tutorials cover basic and advanced R topics, as well as specific applications in financial and pharmaceutical industries. You also work with and analyze real data sets such as New York subway ridership data and daily weather data. For $25 per month, you can take as many courses as you want. You can also try the introductory R courses for free.
Thinkful
Learning by yourself can be hard, so in addition to the coursework, Thinkful pairs you with a one-on-one mentor who will answer your questions and check in to make sure your learning is on track.
The courses usually target beginners and include front-end web development, back-end programming, and some mobile development classes in iOS and Android. Courses include practice projects, and students have built Wikipedia and Twitter clones, along with appointment books and a chat app.
Each course typically takes two to three months to complete, and costs between $300 and $500 per month.
General Assembly
General Assembly (GA) teaches HTML, CSS, and JavaScript online through a free product called Dash, and also has lectures from industry leaders who talk about everything from coding your app to marketing it.
In addition to the online courses, GA has live instruction in nine major US cities for a variety of courses such as web development, data science, product management, and marketing. Classes range in duration from one night to one weekend to twelve weeks at a cost of $20 for a single event to $12,000 for an intensive daily experience for three months.
In addition, the dedicated physical space provides a good opportunity to meet other people in your community who are also trying to learn how to code.
Coding reference websites
As you learn to code, you'll get stuck. Your code just won't behave as you intended. This happens to every programmer — it's an inevitable part of the process of turning human logic and fuzzy thoughts into rigid code a computer can understand. The important thing is to have a plan and resources to help debug your code and solve your problem.
The resources in this section describe reference texts, which help you check your coding syntax, and community user groups, which help you check your program logic.
W3Schools
W3Schools is one of the best resources for beginners who are just starting to learn. The website includes reference material and basic tutorials for HTML, CSS, JavaScript, PHP, and other programming languages, libraries, and standards.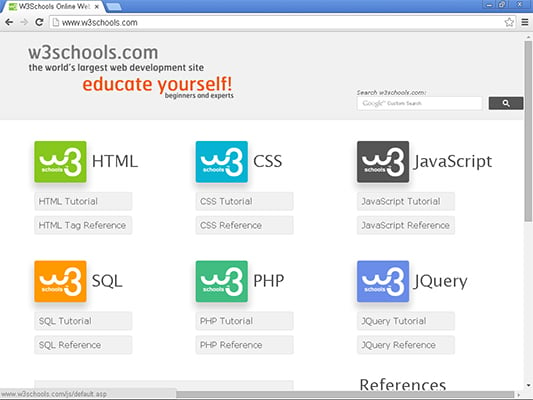 In addition, the reference pages include many coding examples, which you can view and modify in your browser, along with a list of attributes or properties that can be used. If you know that you can insert an image using HTML, change the text color using CSS, or show an alert to the user using JavaScript, but you can't remember the exact syntax to do so, start with W3Schools.
Although it's a great resource, W3Schools has no affiliation with or endorsement from W3C, which is the governing body that creates the standards that browsers follow when rendering HTML, CSS, and other languages and formats.
Mozilla Developer Network
Mozilla Developer Network (MDN) is a wiki-style reference and tutorial website that covers HTML, CSS, JavaScript, and various APIs. The website is maintained by the developer community, so anyone can contribute — even you!
Although not as beginner-friendly as W3Schools, MDN is one of the most complete and accurate sources of documentation for web languages. Developers frequently use MDN to reference syntax, and also to see desktop and mobile browser compatibility for specific tags and commands.
You can also check out tutorials on MDN hosted by the Mozilla Foundation, a nonprofit organization that helps support and maintain the Firefox browser.
Stack Overflow
Stack Overflow is relatively young, founded in 2008, but has quickly become the best place for developers to ask and answer questions about coding. Anyone can ask a question. Individual programmers provide answers, and the website community votes the answers up or down to show agreement or disagreement, respectively. The site includes topics that cover all major web programming languages; the most popular topics include JavaScript, Ruby, and Python.
Before asking a question, search the website and see whether an answer to your question has already been posted. One of the website's rules of etiquette is to show that you have conducted some research before posting a question.