How to Claim Your Page on Google Places for Business
How to Claim Your Page on Google Places for Business
If you've ever Googled your online business, you know you already exist on Google. If you have a brick-and-mortar location, that's already on Google too. (It's likely the folks who take photos for Google Earth have even photographed your facility, too.)
Try it now. Do a search for your business so you can claim it as your own:
2

Type your business name in the search box and press Enter.

You may need to enter your street address and city to distinguish your business from others with similar names.

Suppose you don't find your business? If your business doesn't appear, go to Google Places at www.google.com/business/placesforbusiness. Search for the address rather than the business name; when the address turns up, continue with the steps.
3

When your business (or your address) appears, click the red pin that represents it.

A window with information about the location pops up.
4

Click More Info.

A Google Places page appears, with a description of your business.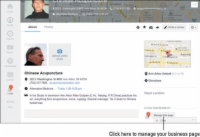 5

Click Manage This Page, which appears under Is This Your Business?.

A page appears with three options: Edit my Business Information, Suspend This Listing, and This Isn't my Listing.
6

Click Edit my Business Information; then click Continue.
7

Select the method by which you want to confirm that you are the owner or manager of the business; then click Finish.