How to Upload Your Etsy Photos to Picnik
How to Upload Your Etsy Photos to Picnik
It's important to make the photos you take of your Etsy wares look as professional as possible. After all, your images sell your merchandise. Picnik is a free tool you can use to edit photos you take of your Etsy merchandise. It lets you tweak exposure, adjust colors, and even crop your images. Before you can tidy up your images, you must upload them to Picnik. Here's how:
1

Copy your photos from your camera to your computer.

See your camera's manual for details on how to do this.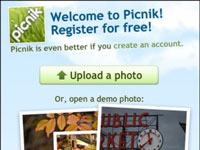 3

Click the Get Started Now button.

Picnik directs you to a page where you can upload a photo. You can create an account with Picnik on this page — either a free one or a fee-based one, which gives you access to additional site features — but you don't have to.
4

Click the Upload a Photo button.

A dialog box appears; you use it to find the photo you want to upload.