How to Set Up a Shop on Etsy
How to Set Up a Shop on Etsy
Becoming an Etsy seller is a simple matter of setting up a shop on the site and listing items. It's a good idea to review Etsy's policies to make sure you're items fit into an Etsy category.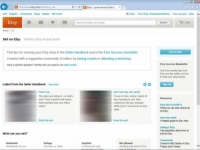 1

Click the Sell link in the upper-left corner of the main page.

The Sell page appears. This page reminds you what you can and can't sell on Etsy.
2

Click the Open an Etsy Shop button.

Etsy prompts you to choose a language, currency, and country for your shop.

Although most Etsy sellers hail from the ol' U. S. of A. — which is one reason the site's default currency is the U.S. dollar — plenty of Etsy sellers call other countries home.

If you're in that latter group, or if you find that your buyers tend to be clustered in a particular region abroad, you can list items and receive payments in a different currency (assuming that it's one of the other 20-plus currencies supported, including those of Australia, Canada, the European Union, Great Britain, Hong Kong, Israel, Japan, Mexico, New Zealand, Singapore, Thailand, and more).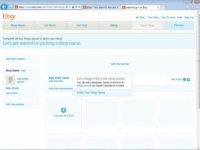 3

If your shop language is English, your shop currency is the U.S. dollar, and your shop country is United States, simply click Yes. If not, click the No, I Want to Choose link; choose the desired language, currency, and shop country; and click Save.

Etsy saves your changes and prompts you to select a shop name.
5

Type the name you'd like to use for your shop and click Save.

Assuming no other seller has beaten you to the punch and selected your shop name already, Etsy assigns to your shop the name you typed.