How to Edit Your Etsy Listing
How to Edit Your Etsy Listing
Look, nobody's perfect. You may make a mistake when creating your Etsy listing and need to change it. Or maybe a potential buyer asks a question about the item you have for sale, and you want to update the item's listing to reflect your answer. Or you may want to add or change a listing photo.
Fortunately, regardless of why you need to change a listing, editing Etsy listings is a breeze (and free). You can edit any part of your item listing — the item title, item description, price, images, tags, materials, shipping information, you name it. To edit a listing, log in to your Etsy account and follow these steps:
1

Click the Shop icon in your Etsy header bar.

Your Etsy shop opens.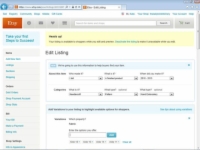 3

Click the Edit link in the Listing Tools toolbar along the top of the listing.

The Edit Listing page opens. This page is nearly identical to the List an Item page.

You can also launch the edit operation from the Currently for Sale page. To begin, hover your mouse pointer over the Your Shop link along the top of any Etsy page; then click the Listings link to open the Currently for Sale page. Next, click the Edit link on the right side of the listing that you want to edit.
4

Edit the listing using the same techniques you employed to create it.

Don't worry, you will still get a chance to preview your listing.
5

Click the Preview Listing button to preview the listing.

Didn't your English teacher teach you to read over your homework before you turn it in?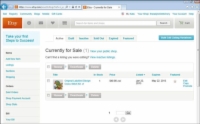 6

Click the Publish button to publish the edited listing.

To ensure that no one can view the listing while you edit it, click the Deactivate This Listing link at the top of the Edit Listing page. Etsy deactivates the listing, displaying it in the Inactive Listings page. To edit the listing, click its Edit link; then complete steps 4 through 6 as normal.