Build Online Networks with Social Commerce
Build Online Networks with Social Commerce
Although online communities are often lumped into the social networking category, they are much more than a social site. Each offers something different and has its own pros and cons, especially when it comes to using them to grow an online business.
In its truest form, a social networking site provides a central hub where individuals or groups can exchange ideas, share information, and build relationships. Following are some of the most popular and fastest growing social networks; they may be important to you as you grow an online (or offline) business, or look for the next niche business opportunity. Here are the best known (and up-and-coming) social networks:
1

Businesses use Facebook as a place to run contests, seek out information or research, and attract more customers by garnering more "likes."

What can businesses do with Facebook pages? Whether you have an e-commerce business or a bricks-and-mortar location, you want to create a profile of your business so that potential customers have an up-close look at what your business can do for them.

In addition to the profile, fans of your business can leave a post or comment on your wall (or primary page), ask questions, seek out technical support, and share pictures of themselves using your product.

Facebook is also an ideal place to promote video content and other presentations or brochures in an effort to get your company in the face of those who count most — your customers.
2

Google+ is important for several reasons.

For starters, Google wants to tie all your online activity to a single identity, which means it connects your Google+ profile with your Gmail accounts and your search activity. This strategy essentially forced people to have a Google+ presence (which boosted its members from the start).

But more importantly, it's widely thought that Google+ profiles and activity contribute to search engine rankings. For that reason alone, spending time in your Google+ account could be especially beneficial when sharing blog posts, product updates, and other important information that can pump up your online earnings opportunity.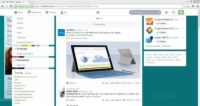 3

Although it comes as a surprise to many, Twitter is a useful tool for business.

Search functions make it easy to identify potential followers (and possible customers) based on your use of key search words. And, thanks to link-shortening tools, such as Bit.ly, it's easy to add a link back to your site to promote content such as blog posts, videos, and presentations, or to highlight your services and products.

Using Twitter as a traffic-generating tool is one of the benefits it offers to your website. You can also use hash tags (the number or pound sign on your computer keyboard) to follow discussions on key phrases, promote key phrases, or allow others to discuss a topic relating to your business.

Like Facebook, Twitter offers a promotional opportunity with paid advertising, called promoted tweets. The ad program lets you target a particular audience on Twitter (segmented by keywords used in user profiles and in tweets, and by hashtags and popular trending topics, for example). Your promoted tweet is labeled as such at the bottom of the tweet and is then inserted into the top of your target audience's Twitter stream.
4

LinkedIn is one of the only (if not the only) social networking sites developed with businesses in mind.

If you're selling B2B (business to business), LinkedIn is an ideal social network for you. LinkedIn heavily promotes social selling, which is essentially finding and selling to customers through social media. It is continually updating its platform and tools to make it easy for you to sell or prospect in the platform.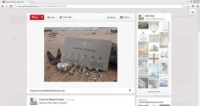 5

Pinterest has become one of the most popular image-sharing social networks.

As a business or a blogger, your customers and readers can share images from your online store or blog directly to their Pinterest boards. In this way, your product images get shared across a huge network of Pinterest members.

You can also add special tags to your images that include product information (such as price) and link back to your website so that people who see the pin can then buy the product. And Pinterest is not just for typical products such as clothing or home décor — you can promote books, services, and other digital products, too. This feature is a great sales promotion tool for online sales.