Achieve Pro Merchant Status on Amazon
Achieve Pro Merchant Status on Amazon
Realizing that you might want to increase your sales potential by using Amazon, the site established the Pro Merchant account. You're a primary candidate for this type of account if you sell more than 40 orders per month.
As a Pro Merchant, you're still selling in the Marketplace: The way your listings look, the options for where the listings appear, and the way you post your items for sale are the same.
When you become a Pro Merchant seller, you gain a few definite advantages:
Reduced fees: The 99-cent transaction fee is automatically waived for all Pro Merchant accounts. All other commissions and fees remain, however.

Bulk listing capabilities: Designed for sellers of large inventory, the Pro Merchant account provides tools that make it easier to load and manage multiple listings. Included among the tools are

Inventory Loader: Modify, delete, and upload thousands of products at one time.

Book Loader: Match and upload books considered to have pre-ISBNs. Rare, collectible, or out-of-print books are in this category.

Continuous listings: Your listings never expire. You keep them posted until an item sells or you decide to remove them.

Management functions: You gain access to various reports that show the status of your account at any given time. These reports allow you to view all account activity (including items that shipped) during the past 15, 30, or 60 days.

Fraud protection: Amazon offers a payment fraud protection program to help eliminate fraudulent products. It also offers an A-to-Z Guarantee program that protects both the customers and you, in case something goes wrong with an order.
Unlike your basic Marketplace listing, opening a full account comes at a price. Amazon charges $39.99 per month for a Pro Merchant account (although it sometimes offers limited-time-only discounts for the first few months of service). Only Pro Merchants are allowed to sell in the beauty products, grocery and gourmet food, and health and personal care categories.
Additionally, several categories require special approval from Amazon before you can begin selling. These categories include automotive parts, cellphones and accessories, clothing and accessories, jewelry, motorcycles, ATV and protective gear, shoes, and watches. If you're selling in the toys and games category, note that Amazon doesn't accept new sellers in that category during the holiday season, which usually starts in late October and runs through early January.
Opening a Pro Merchant account can truly pay off. You have access to several types of inventory reports, including
Open Listings: In this report, you view all items that are available for purchase, including the items you marked as Coming Soon. You can also make changes to this report, using an Excel file, and then reload your updated listings.

Open Listings Lite: Sometimes, you don't need to see all the information — only a few key points. This report allows you to make updates to your listings quickly and then reload the changes. The Lite report shows you the seller SKU number (a unique number you use to identify a product you sell), quantity, price, and product ID.

Open Listings Liter: The Open Listing Liter is scaled down even further than the Open Listing Lite report. One quick glance at this report provides you with access to only the seller SKU number and quantity.

Order Fulfillment: Create a quick report of all products that have been purchased. You also see the buyer information (such as shipping address) so that you can send out the orders in a timely fashion.

Sold Listings: You see an extensive report of all your product listings that have sold, even if payment is still outstanding.

Cancelled Listings: Just as it sounds, this report shows which items are no longer "in the hopper" because Amazon has cancelled them. Not included are any items that may be sold out, that the Inventory Loader purged, or that you have nixed.
To sign up for a Pro Merchant account, click the Sell as a Professional button on the Sell on Amazon page.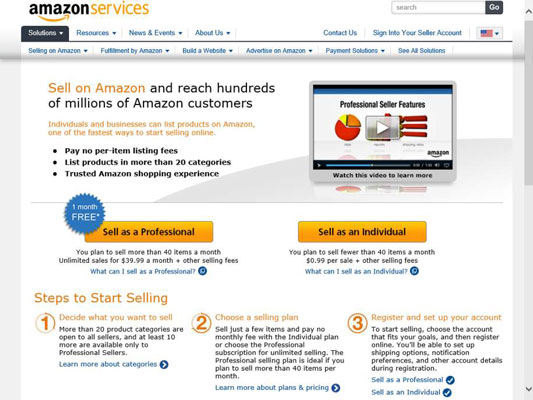 Although Amazon handles the payment process between you and your customer, you're responsible for any returns or refunds. If a seller requests a refund, he or she has to ship the item back to you, and you absorb the cost of shipping. All refunds can be handled directly from your Amazon merchant seller account.