How to Determine the Required Elements for a Contract Bid
How to Determine the Required Elements for a Contract Bid
When you respond to an RFP (Request For Proposal), you position your organization to win a contract bid. Pursuing contracted services on a regular basis can strengthen and grow your business. In the first section of your services proposal, you're asked to write about your organization's experience, expertise, and reliability. Keep on top of what's required in the experience, expertise, and reliability section of a services proposal:
Know how the bid-letting agency words its information request.

Write a compelling narrative that convinces the agency that your business can deliver the services required
Make sure you understand the RFP guidelines. All RFPs are written differently, depending on the contract bid–letting agency's standard template (developed internally by the procurement staff). To figure out the expected length of the summary, follow the page limitation instructions. And don't forget that offeror refers to the bidding agency — that's you!
To convey the qualifications of your company, divide the experience, reliability, and expertise section of your services proposal into the following categories:
Bidder: Enter your company's full legal name.

Mission Statement: Provide the complete mission statement for your company.

Areas of Expertise: List the areas of experience for your business — and don't forget to include the corresponding years or time frames for those experiences.

Track Record for Winning and Managing Contracts with Positive Client Outcomes/Collaborative Partners: Present your narrative or create a table showing the previous contracts your business has been awarded (specifically list the agencies or businesses, which are also referred to as your collaborative partners) and the outcomes (list the numbers of individuals served or the number of products sold).

Background of Bidder: Provide information on your company's background. For example, note when your company was formed. Make sure to provide details to validate the impact or effectiveness of the program, product, or service that you're proposing in this services proposal.

Current Service Levels: Include the names of your services, programs, and products, along with the current levels for their provisions.
You can also use a table to present this qualification information. This figure shows an example of how a simple table can convey your organization's capability.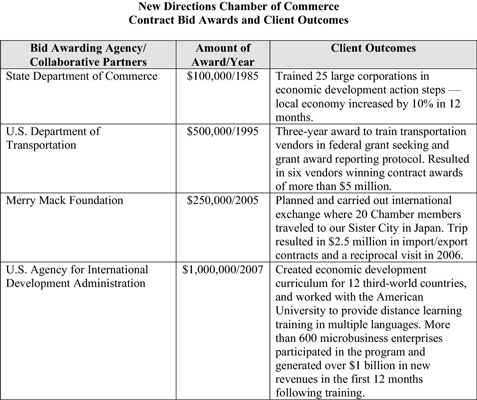 Always use a formal tone and third-person writing style when writing services proposals. To make an impact on the bidding proposal reviewer, bold, italicize, and underline key terms in your services proposal.