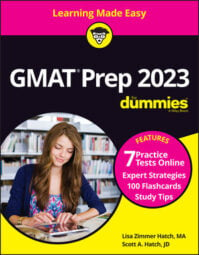 GMAT Prep 2023 For Dummies with Online Practice
By: Lisa Zimmer Hatch and Scott A. Hatch Published: 05-30-2022
This trusted GMAT study guide has the clear explanations and practice you need to maximize your scores on all categories of the exam. Figure out where you need to study the most and create a targeted study plan. The book also includes seven full-length practice tests, so you'll be an old pro by the time test day rolls around.
Articles From

GMAT Prep 2023 For Dummies with Online Practice
GMAT
GMAT For Dummies Cheat Sheet
Cheat Sheet / Updated 04-05-2022
When you take the GMAT, make sure you take the required items with you to the test. Use these guidelines to help you get through the math, critical reasoning, sentence correction, and reading comprehensions questions — as well as for writing your analytical essay and conquering integrated reasoning questions.
View Cheat Sheet