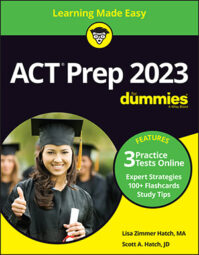 ACT Prep 2023 For Dummies with Online Practice
By: Scott A. Hatch and Lisa Zimmer Hatch Published: 06-13-2022
ACT Prep 2023 For Dummies equips you with all the tools you need to do great on the ACT exam. The book includes a math refresh, tips for powering through the reading comprehension section, flash cards for memory retention, and online practice tests. All of the ACT's subjects — math, science, reading, and English — are covered.
Articles From

ACT Prep 2023 For Dummies with Online Practice
Sorry, there are no articles to show here.