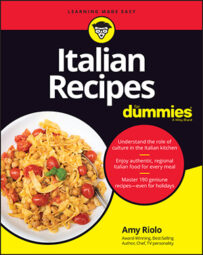 Italian Recipes For Dummies
By: Amy Riolo Published: 03-21-2022
In Italian Recipes For Dummies, award-winning chef and author Amy Riolo delivers a step-by-step guide to creating authentic Italian dishes. The book starts with the basics and progresses to more advanced techniques and recipes. You'll discover how to shop for, plan, and cook delicious, authentic, Italian meals.
Articles From

Italian Recipes For Dummies
Italian
Italian Recipes For Dummies Cheat Sheet
Cheat Sheet / Updated 02-23-2022
To cook truly wonderful Italian meals, it helps to have some knowledge of Italian cooking tradition. This Cheat Sheet summarizes important factors in cooking like an Italian, including cooking terms, pairing flavors, and Italian culture and history. It also includes explanations of ingredient labels, wine labels, and an Italian meal-planning checklist.
View Cheat Sheet