If you're likely to use terms from some specialized vocabulary, you can make a list of such terms and give them to Dragon Professional Individual in one fell swoop. For example, Queen's Gambit Declined is the name of a chess opening.
Each of the three words is surely already in the Dragon Professional Individual General English vocabulary, but Dragon Professional Individual doesn't know that these three words have a special capitalization pattern when they appear together. If you were to dictate documents about chess, you would want to include Queen's Gambit Declined on one line of your list.
You can create a list and use the Import List of Words or Phrases box, as shown.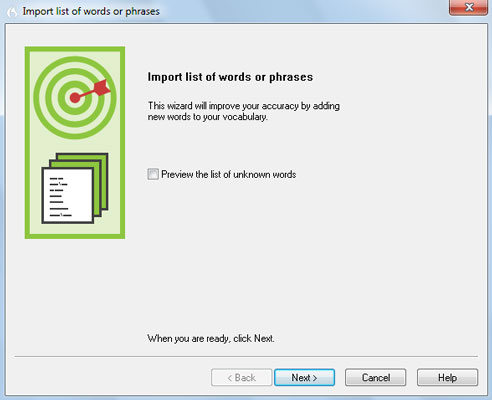 The Import List of Words or Phrases box.
Follow these steps:
Create a text file in which each line is the written form of a vocabulary entry you want to add.

At the end of any line where you want a different spoken form, add a backslash (/) and then the shorthand alias you want to speak.

From the Accuracy Center, click the Import a List of Words or Phrases link or use the mouse or commands, and from the DragonBar go to Vocabulary→Import List of Words or Phrases.

A screen pops up with the words "Import List of Words or Phrases." You also see the option to "Preview the list of unknown words." If you wish to do that, select the box.

Click Next.

You are asked to add the file.

Click the Add File button.

The file is analyzed.

Click Finish.

A Summary box shows you how many words were added to your vocabulary.
A few wise ideas can save you time and trouble while adding words by using the Import method:
Review the list of words to make sure they are real words that you really want.

Don't add words that you use infrequently. This is especially true if they sound like some other word that you use often.

Sometimes individual proper nouns that you want from a document are actually common words, except that their capitalization (or lack of capitalization) makes them special for you — a sports team named Bingo, for example, or an Internet domain that uses a person's name.
About This Article
This article is from the book:
This article can be found in the category: