The best way to learn is to watch others do what you want to do. To understand how all these connections work you need to take a look at other communities to see how they run things. No two Discord servers are alike, and you will want to learn from others so that you know how this platform works.

So how do we join Discord servers?
No cover at the door: Joining open servers
Underneath your Server's avatar are two icons: Add a Server and Server Discovery. We will use both to help you out in your first steps in building a community.

1. Click the magnifying glass below the plus sign in the top-left corner of the Discord app.

This icon is your Server Discovery tool.

A directory of servers appears below a search bar, prompting you to search various topics. The Server Discovery Directory, shown here, is your guide to open communities that welcome new users to their servers.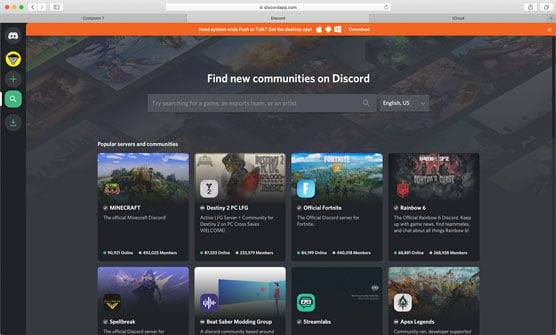 Server Discovery is one way of finding new communities with other users who have something in common with you.
2. Scroll down to review the featured communities, or click the Next button at the bottom of the directory to review another offering of Discord servers.
3. When you have found a community you wish to join, click that server.
Whether you click the server or the View button, you will be ushered to a holding area that usually features the rules of a server. It will be in your best interest to read this page carefully before clicking the Join Server button located at the bottom right of Discord.
4. When you're ready, click the Join Server button.
When a server is joined, an avatar for that server appears on the left side of your Discord. You can begin chatting, provided that the room allows chatting.
5. Return to the Server Discovery tool, and this time, enter a favorite video game in the Search bar, located above the featured servers.
At present, Discord's search directory is limited to gaming topics. In the case of nongaming interests, you will find discussions on individual servers.
6. Repeat steps 2 and 4 to join a server that interests you.
Now that you have joined servers, you should notice those servers in your left sidebar. To visit the servers, simply click the server's avatar, and you find yourself there, ready to chat. The various topics with the hash-tag symbol are called channels, where engagement happens. Here, you discuss whatever the channel's topic features.
By Invitation Only: Joining Private Servers
This is how you can jump into popular, public servers, but there are plenty other servers — like your own — you can enjoy, provided that you have an invitation. I am going to use my server (TheTeeMonster's Not-So-Secret-Lair) as the example of what to do when you get an invite to a server.

When you receive an invite, a URL will be provided. The link can be sent via email, text, or chat.

1. When you receive the link, click the link to launch Discord and join the new server, or copy the link to your Clipboard by pressing Ctrl+C (Windows) or Apple key+C (macOS).

The invitation URL for my server is https://discord.gg/62dvzyk.

2. If you copied the URL, click the Add Server button, located above the Server Discovery button.

3. Select the Join a Server option.

4. Enter the URL in the provided field (shown here) and then click the Join button.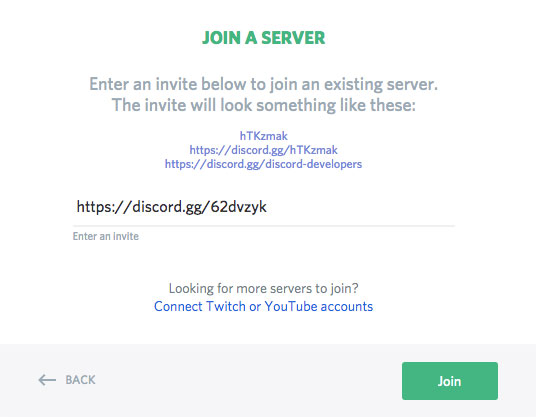 By clicking on the Add a Server icon (the green "+" sign), you have received a URL to another server. This is where you use the invite to gain access.
You have joined a server via invitation. Simple as that.
But if you spend some time at this server and find the discussions are not to your liking, follow these steps:
1. Find the server you wish to leave in the left-hand sidebar of your Discord. Right-click it to access the Options menu.
2. Choose the Leave Server option from the drop-down menu.
3. Confirm this decision by clicking the Leave Server button.
Now that you have set up your own server, refined your profile, and joined servers, it's time to make connections and begin tapping into what Discord can do. There are discussions happening right now, and it's time to make your voice heard. You might make a few new friends as you continue this adventure in Discord.
About This Article
This article is from the book:
This article can be found in the category: