The Page Plugin allows you to display on your website any page that appears on Facebook, which can facilitate promotions with other businesses on Facebook.

To add the Page Plugin to your web page, follow these steps:
Visit Facebook's Plugin's Page and click the Page Plugin link.
Fill in the requested information to customize your Page Plugin, as follows:

Facebook Page URL: Enter the specific URL of the Facebook Page you want to share on your website.
Tabs: Choose the tab you want users to click to share the Page.
Width: Enter the pixel width for the embed.
Height: Enter the pixel height for the embed.

Use the following check boxes to customize the look of the Page to share:

Use Small Header: Select this box if you want to keep the original header of the Page small.
Adapt to Plugin Container Width: Select this box if you want to adapt the plug-in to the container width.
Hide Cover Photo: Select this box if you want to hide the cover photo of the original Facebook Page that you intend to share.
Show Friends' Faces: Select this box if you want to display the faces of friends who liked the page.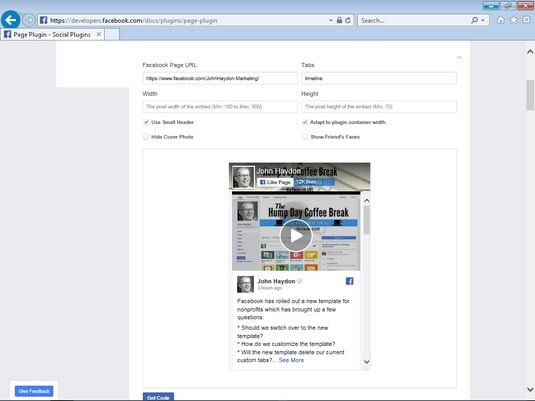 Creating the code for the Page Plugin.
About This Article
This article is from the book:
This article can be found in the category: