If you use the Facebook app and ever try to send a message, you will be asked to add the Facebook Messenger app as well. Because getting in touch directly with a friend is sometimes more important when you're out and about than, say, checking out his latest photos, Facebook has built a separate app for messages.

Messenger handles all the chats and messages between you and your Facebook friends when you are on your phone. As a stand-alone app, you can easily get to it and use it to communicate on the go, without getting distracted by the rest of Facebook.

It's just as immediate as texting but doesn't incur any additional texting charges on our phones, and it's easy to switch from a chat on the computer screen to a chat in Messenger without losing any of what we were talking about. Messenger has all the same functionality as sending Facebook messages: You can message one person or multiple people, send photos, videos, stickers, and GIFs, and conversations are easily grouped in one place.

The Messenger app described and shown here is being used on an iPhone. There might be a few slight differences between it and the Android version.

Opening the Messenger app brings you to your recent messages, shown here.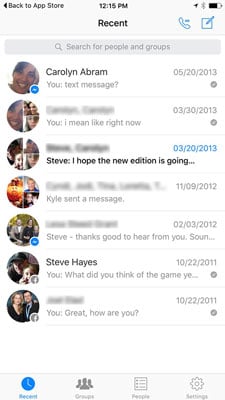 Your Messenger inbox.

The bulk of the page is taken up by your messages, organized by conversation, with the most recent one at the top. Each conversation shows the profile picture of the friend (or friends) you are conversing with. Any conversations that have unread messages appear in bold. Each conversation has a time or date next to it reflecting the last time anyone on that thread sent a message. Use your finger to scroll down to older conversations. Tap on any conversation to open it up and view its contents or add to the conversation.

At the top of the screen is a search bar that lets you search for people and groups you might want to message. In the upper right corner are two icons. The phone icon allows you to start a phone call to a friend. The paper and pencil icon allows you to start a new message to a friend.

When you use Facebook messages, new messages simply get added to any previously sent messages, sort of like your text messages on your phone. They don't get sorted by subject matter or date, only by who is talking to one another.

At the bottom of the screen are four icons.
Recent (clock icon): Tapping this brings you back to your recent messages.
Groups (people icon): Tapping this brings you to a page where you can access and create groups for easy messaging. Groups in this context are meant to function like email lists. You can create groups for things like family members or teammates — the sort of people who will frequently want to get in touch with one another — and then use those groups to send messages. Once you've created a group, messages to that group will appear with the group's name, instead of with the names of all the participants.
People (bullet list icon): This brings you to a list of your friends who also use Messenger. You can also tap to see friends who are currently active on Facebook, either from the web or from their phone.
Settings (gear icon): This brings you to a settings page where you can adjust settings for your notifications, for whether you want to sync Messenger with your phone's contact list, whether you want to give Messenger permission to access your phone's camera and photos, and settings related to making payments via messenger. You can also find links here to report a problem or search for help.
For Android Users: The locations of the menus in the Messenger inbox are swapped. Search, Phone, and New Message are at the bottom of the screen, and Recent, Groups, People, and Settings are at the top of the screen.
About This Article
This article can be found in the category: