If you've ever tried to locate the Facebook passageway that takes you through the steps to permanently delete your account, you know it's not easy to find. That's because the popular social networking Web site doesn't present an obvious "delete my account" button.
Deactivating your Facebook account is not the same thing as deleting it. While deactivating your profile makes it unavailable for searches or public viewing, Facebook still keeps all of your information in the hopes that you'll reactivate — a process that's instantaneous when you log back on.
If this seems a bit confusing, don't despair. There is a fairly simple way to secede from the Facebook nation. Just follow these few steps.
Log on to your Facebook account.

While your Facebook page is visible, copy and paste this link into your Web address bar: http://www.facebook.com/help/contact.php?show_form=delete_account
Click "Enter."
Read this screen and then click "Submit."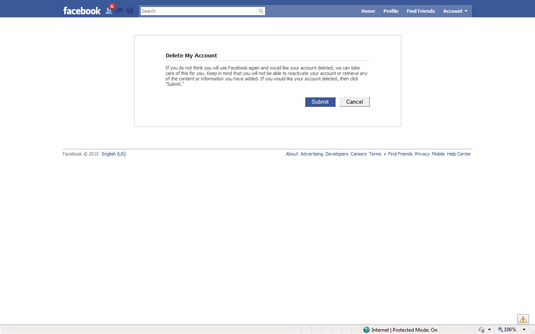 The "Permanently Delete Account" screen will automatically pop up.
Type your Facebook account password, along with the security check words given on your screen, in the fields provided.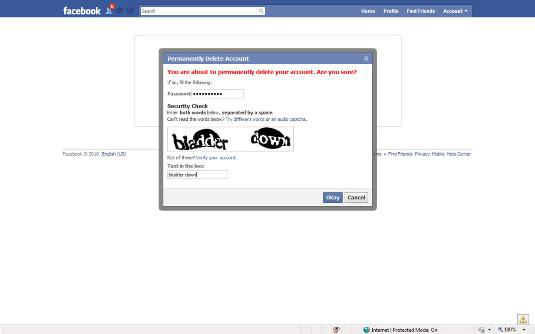 That's all there is to it. You should receive an e-mail from Facebook confirming that you've chosen to delete your account. The e-mail will also tell you that your profile's been deactivated and will be deleted within the next 14 days.
About This Article
This article can be found in the category: