As soon as a new website is 100 percent complete and published on its domain, the URL can be submitted to search engines for indexing and listing. You do this by submitting the site's URL to the search tools that the target audience is likely to use.
These tools include search engines, which use robots and spiders to crawl the web in search of new listings, and search directories, which are essentially categorized lists of sites that are sometimes compiled or edited by people instead of bots.
Although it's a good idea to get the site listed on the most popular search tools that you think will assist the target in finding the site, it doesn't mean using some kind of submission tool or SEO service that will blast the URL, like spam, to any and all search engines around the world.
Those kinds of submission techniques not only create tons of kickback spam e-mails to the submitting e-mail address, but they also rarely, if ever, increase site traffic.
What's more, some SEO submission tools and SEO services deliberately submit the URL directly to spam sites — web pages of site listings that clog up the Internet and have no purpose — which can jeopardize the integrity of the domain when it comes to listing the site legitimately on the major search engines.
The best way to get a site listed, then, is to hand-submit the URL to the major search engines and directories yourself and, when additional exposure is desired, to pay a reputable listing service such as Google AdWords and Yahoo! Search Advertising Solutions (formerly Overture Keywords) for pay-per-click advertising.
These services offer paid listing options for as little as $25 per month that can guarantee that your site is listed in the top search results or is listed in the sponsored advertising space directly above or to the right of the regular search listings.
Most search engines, search directories, and search listings (which use search engines and directories to compile their data) charge you a fee for submitting a URL with them; however, a few of them are still free.
Submitting your site to a search tool usually only takes a minute or two, and although you have no guarantee of the submitted URL being indexed, a submitted page is better than no submission at all. As a value-added service, you may want to offer to submit your clients' sites to the free search engine submission tools as part of your web design package.
Most of the free submission tools request just the domain name and a valid e-mail address to complete the submission process. Google, for instance, only requests that you first create an account before you log into the URL submission page. Then simply provide the home page URL and complete the human submission validation field entry.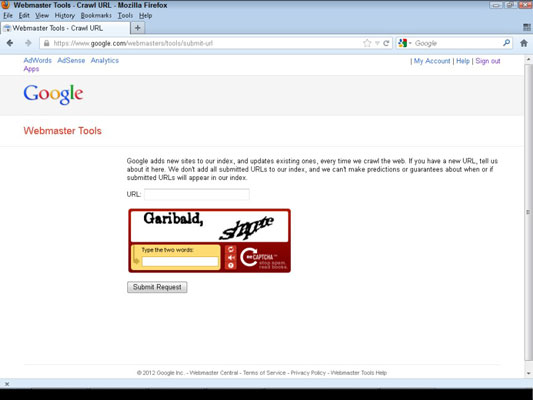 Other tools require that you choose a submission category that matches the site's product or service offerings. For example, before submitting a URL to the Open Directory Project, you must use that site's search feature to locate the most appropriate category for your site, and then submit the URL to the directory from within that specific section of the directory.
To illustrate, suppose you've just designed, built, and published a new website for a children's mystery book writer who's just finished his second novel in a series about a fictional character. What would be the best category to list this site in? One for children's books, one for children's book authors, or one that promotes the sales of the children's books?
To find out, go to the Open Directory Project and, in the search bar, enter the keywords children's books. What are some of the subcategories that appear? Are some more appropriate than others? Type another search with the keywords children series books.
Two suitable categories for this website might be "Arts: Literature: Children's: Children's Series Books" and "Business: Publishing and Printing: Publishing: Books: Children." Because you may submit the site to only one category, choose wisely because you have no second chances.
If you are submitting the site for a client, ask for her opinion about which category best matches her needs before submitting the site to the search tool. As soon as you have chosen the right category, select it and then click the Submit URL link at the top of the page. This brings you to a submission page where you can follow the online instructions for submitting the site.
About This Article
This article is from the book:
This article can be found in the category: