Google Translate doesn't just translate words and phrases for you; it can also translate entire documents, such as plain text and rich-text documents, Microsoft Word documents, HTML, and even translate PDFs. (It also translates entire websites.)

The file-size limit for translating documents (as stated in Google's FAQs) is 1MB. However, you may have success with larger documents. After all, it doesn't hurt to try. Keep in mind, the larger the document, the longer the translation will take.

To use Google Translate to translate an entire document, follow these steps and see the figure below for reference:
Open a Web browser and go to translate.google.com. You don't need a Google account to access it, because it's free to all.

In the top left area of your screen, click the Documents button.

Click Browse to navigate to a document on your hard drive that you want to translate.

At the top left of the window in which your document appears, choose the language that the document is already in — for example, English.

On the right, choose the language you want the document translated into — for example, French.

Click Translate.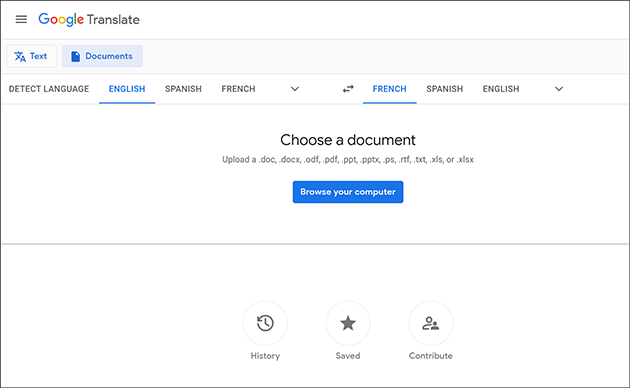 Google Translate
The translation appears in a blank browser window. If you hover over each line, you can see the original English text that it was translated from.
If you think the translation is incorrect, you can change it ― just hover your cursor over a line of the translation and click the Contribute a Better Translation link. Type your translation into the text box and click Contribute. Your translation is submitted to Google Translate.
To use the translated text, simply copy and paste it from the browser window into a new document.
Just like other online translation tools, Google Translate is far from perfect. It does have a good reputation for accuracy, but it does make mistakes. So use it with caution. It may work fine in casual situations — for example, if you're translating a love poem into another language for Valentine's Day. But if you rely on it for translating official business documents, be very careful. It's probably better to pay for a reputable translation when business is on the line.
About This Article
This article can be found in the category: