PayPal is a popular method of payment on eBay. PayPal lets you (or your eBay buyer) click the Pay Now button that shows up at the end of a transaction or on an invoice. You can easily set up a PayPal account.
After you register with PayPal to pay for an item, PayPal debits your credit card or your bank checking account and sends the payment to the seller's account. PayPal does not charge buyers to use the service. Buyers can use PayPal to pay any seller within the United States (and around the world in over 55 countries).
Signing up with PayPal is safe. PayPal uses the extra security measure (called CVV2 and provided by Visa and MasterCard) that involves the three additional numbers found on the back of your credit card.
To set up a PayPal account:
Click the link on the left side of your My eBay page in the Shortcuts box. To register, just click the PayPal link.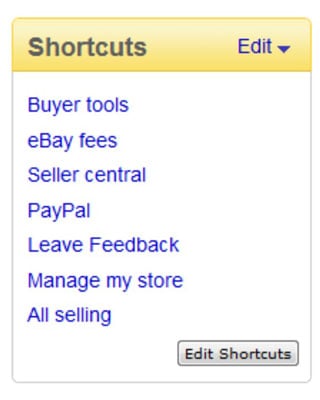 The PayPal Seller Overview page appears.
Click the Sign Up button, and you arrive at the beginning of the PayPal registration process.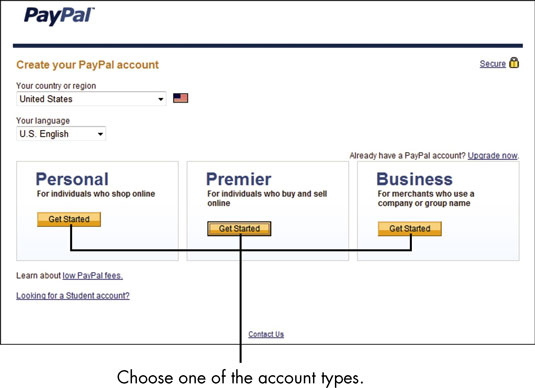 Now it's time to decide the type of PayPal account you want. This decision isn't as simple as it might seem. Signing up for a Premier account at this point makes sense. You can register more than one credit card and more than one bank account (one for personal transactions and one for business). This way, when you start to sell, you'll have a history of transactions with PayPal, and you won't be treated like a newbie.
Choose your account type, follow the steps to enter your personal information, and add a credit card (or cards) for shopping and bank account information for the accounts you intend to use.
Your bank account information is needed so that PayPal can verify your identify. PayPal deposits small change into your checking account. Once they do that, you go back to the PayPal site and confirm the amounts. In addition, your bank account is where PayPal will need to deposit the money you'll be making when selling on the site — or withdraw money from should you prefer not to use a credit card for your purchases.
About This Article
This article is from the book:
This article can be found in the category: