There are multiple ways you can post things on the internet. But what if you need a little more? What if you need a website with a bunch of pages, with titles you choose, about topics you choose, and maybe even with your own domain name?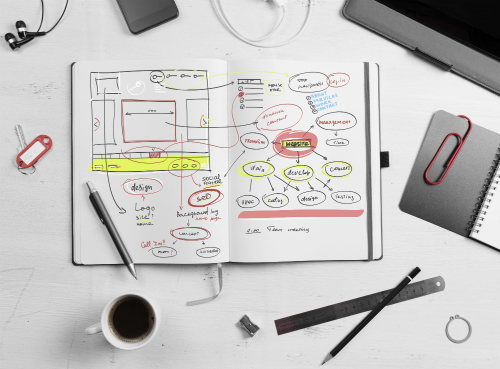 Credit: ©iStockphoto.com/Maximkostenko
Page creators abound
You have (as usual) several ways to create a website, beyond using Facebook, photo sharing sites, and blogs. The simplest is to use a page creator site. At these sites, you can design the look of your site, create a home page for the site, and create as many other pages as you want. Different pages can have different layouts. You don't have to learn to use HTML, the formatting language used by all web pages.

Page creator sites offer a variety of features, so look carefully before choosing one:
Cost: The site may be free or may incur a monthly charge. Free sites often display ads over which you have little control.

Customization: Some page creator sites allow more customization of the design than others. Some let you see the HTML (web page code) that makes up your pages and tweak it so that your pages look just right. Others don't allow it.

Subdomain: Your site can be a subdomain of the page creator site, where your web address is the main site's address with www replaced by a name you choose. You might want your website to have its own domain name (that web address ending in .com or whatever) to give it a little extra cachet.

Design: Page creator sites offer lots of standard designs. See whether any sites have a design you like.

Special features: Some sites let you include message boards, guest books, blogs, calendars, photo galleries, and video on your site. Some help you sell items on your site, with connections to PayPal for checkout.

Size: The amount of information you can store on your website varies, along with the maximum number of pages.
Here are some good page creator sites All these sites make creating your own website incredibly easy. You can add pages, add text and pictures to the pages, and create links in the text. Most page creator sites provide a bunch of other items you can add to your pages, such as a calendar, a weather report, a Google map, a blog, an MP3 music player, and videos. For example, you can include a map to your church's or club's meeting location.
What should you say?
Creating a web page is easy. Choosing what to put on your page, however, is harder. What is the page for? What kind of person do you want to see it? Is it for you and your family and friends and potential friends across the world, or are you advertising your business online?

Consider which information you want the entire world to know, because a website is potentially visible to absolutely anyone, including that guy who has hated you ever since fifth grade. If your page is a personal page, don't include your home address or phone number unless you want random people who see the page potentially calling you up. If it's a business page, include your address, phone number, and any other information that potential customers might want.
Choosing a Host for Your Website
Lots of services will host your website for free or a modest fee. Here are some important considerations for you to think about when choosing a website hosting service:
Reliability: Will the service be around for a while? If it's completely free, consider how likely they are to survive the helter-skelter of internet startups and ecommerce.

Domain name: Do you want your website to have its own name (e.g., dummies.com) instead of using a subdomain of the service (e.g., dummies.wordpress.com)? Most web hosting services can host your domain name, too.

Email mailboxes: Do you need one or more email addresses to go with your website? If your website has a custom domain name, you might want email addresses that use the domain name, too. Some website hosts provide mailboxes and some don't.

Responsive, mobile-friendly designs: Will your website look good on smartphones and tablets? Choose a page design that is responsive — that is, responds to the size of the screen or window when displaying your pages.

Fancy extras: Does your website need a calendar, a shopping cart, or a Twitter feed that automatically tweets your new blog posts? Some web hosting services provide all kinds of nifty plug-ins and add-ons.
Some website hosting services to consider are Weebly, Google Sites, and Wordpress.com.
About This Article
This article is from the book:
This article can be found in the category: