Opera offers a clean, modern web browser that is an alternative to the other major providers. If you are unhappy with your current browser, consider Opera as a viable option. Opera provides their browsing software free of charge and is available on just about any device.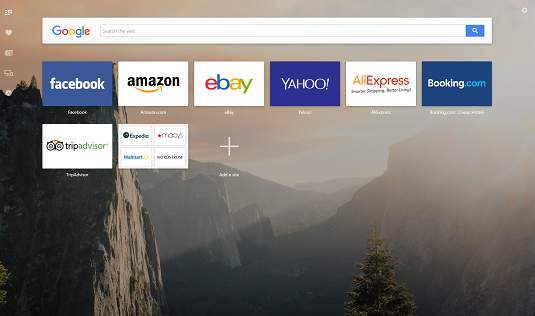 Download the Opera browser for free for an alternative internet experience.
Opera has a solid background in providing internet browsers. The first version was released in 1995. On April 12, 2016, the company unveiled the latest version of the Opera browser.
Downloading the Opera web browser
The Opera browser lets you access the web from your PC, Mac, or mobile device. There are a few different options for making the most of your internet experience. Depending on your device and your needs, you may want to consider which version of the Opera's browser will work the best for you. You have the following choices:
Opera Mini: This browser is primarily available for mobile devices. Accessing the internet with Opera on iOS, Android, Windows Phone, tablets, and PDA's is simple with Opera Mini. Mini is intended to be faster and offer more functionality for mobile devices.
Opera web browser: Available on Android, PC, Mac, and Linux, this browser has a sleek modern interface and boasts a fast connection.
Opera Coast: Coast is primarily available for the iPhone. This browser offers a smooth internet experience for iPhone users looking to ditch Safari.
Opera Max: This Opera browser is available for Android devices and is intended to reduce your data usage. Complete with data usage apps, this browser shrinks your streaming to extend the life of your data plan up to 50 percent.
Check Opera's website for more information on the different web browsers.

Once you have decided which browser is right for you, you'll need to download it to your device. Simply navigate to Opera's website to download a browser for a computer or a mobile device.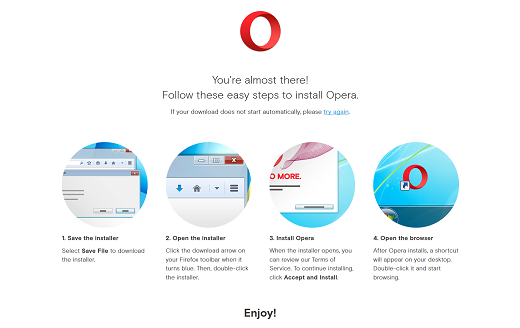 Opera's browser provides simple steps to make the download process easy.
Time for some web surfing!
Using the Opera web browser
The Opera web browser utilizes a clean, modern interface to make using the internet a smooth experience. Helpful features for navigating include
Speed Dial: This is Opera's way of putting your favorites on standby. Your most-used sites can live here for quick access. You will see a display of these sites when you open Opera's browser.
Bookmarks: Adding bookmarks for the sites you visit frequently is easy. Opera also provides you with tools to manage your bookmarks.

Unsorted bookmarks

My folders

Speed Dial

Other Speed Dials

Bookmarks bar

Imported bookmarks

Trash

News: Selecting the News option provides you with multiple ways of managing the news that is important to you. At the very bottom, you can tweak your News Settings by identifying your country and language, as well as customizing your Top Stories by category. You can select your news by the following categories:

Top Stories

Arts

Business

Entertainment

Food

Gaming

Health

Lifestyle

Living

Motoring

News

Science

Sports

Technology

Travel

Tabs: This feature shows you all of the websites you have opened in tabbed browsing.
History: This option shows you a chronological list of the websites you have visited, organized by day and time.
Opera's main toolbar provides you with more options for customizing your internet experience. As with other browsers, you can surf in private mode, zoom in and out on content, print, view your downloads, customize your home page, modify themes, add extensions, and so much more. Under the main menu, you can also choose Opera Turbo. This is a free service provided by Opera that speeds up slow connections. This browser has it all!
About This Article
This article can be found in the category: