If you need to store and share files online so that you can access them anywhere, Dropbox is a handy tool for doing so. You have three plan options to choose from: one free plan and two paid plans. You don't need a credit card to sign up for the free plan, but be prepared to give credit card information if you want either of the paid plans.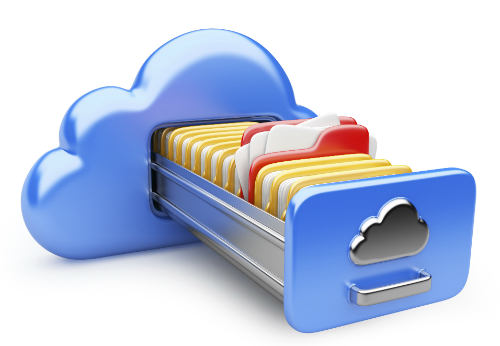 Credit: ©iStockphoto.com/lcs813
Here's how to set up a free Dropbox account:
Open your Web browser and go to https://www.dropbox.com/.

Click the Sign Up button.

Type in your first name, last name, e-mail address, and a password for your account. Your e-mail address and password will be your account credentials to log in.

Click the I Agree to Dropbox Terms checkbox.

Click Sign Up.

On the Choose Your Dropbox Plan page, decide which plan you want.

Dropbox Basic is the free plan that gives you up to 2GB of storage space, plus basic file-sharing features.

Dropbox Pro costs about $10 per month and gives you up to 1TB (1,000GB) of storage space, plus a few more file-sharing controls.

Dropbox for Business costs $15 per user per month and gives you unlimited storage space. However, you have to buy at least five licenses (one per user), which makes the total cost per month at least $60. This option is geared toward business collaborators.

Assuming you want to start out with the free basic service, click Continue.
You're taken to your account on the Dropbox Web site, and the Dropbox application downloads to your computer. Now, you don't have to install Dropbox on your computer if you don't want to. If you don't, you can still use the Dropbox Web site to upload, store, and download your files; you just won't have synchronization between your desktop computer and Dropbox online.
When you log in to Dropbox, you immediately have the ability to increase your storage space by performing a few basic actions, such as uploading some files, taking the Dropbox tour, and so on (see Figure 1). Go ahead and do these things to get a bit more space — and learn how to use Dropbox in the process.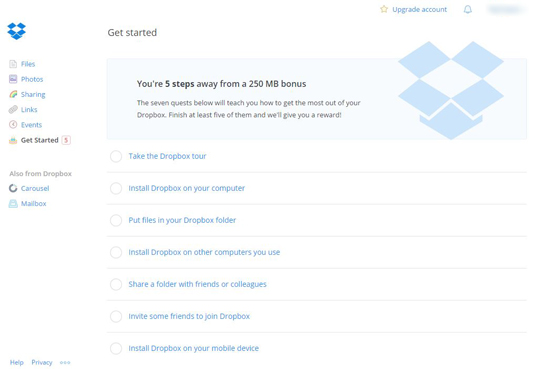 Figure 1: Getting more Dropbox space.
About This Article
This article can be found in the category: