A subnet is a network that falls within a Class A, B, or C network. Subnets are created by using one or more of the Class A, B, or C host bits to extend the network ID. Thus, instead of the standard 8-, 16-, or 24-bit network ID, subnets can have network IDs of any length.
The illustration below shows an example of a network before and after subnetting has been applied. In the unsubnetted network, the network has been assigned the Class B address 144.28.0.0. All the devices on this network must share the same broadcast domain.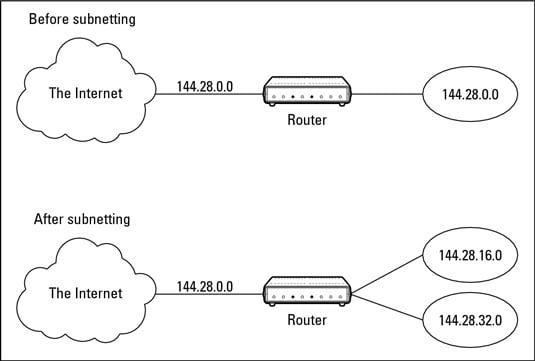 In the second network, the first four bits of the host ID are used to divide the network into two small networks, identified as subnets 16 and 32. To the outside world (that is, on the other side of the router), these two networks still appear to be a single network identified as 144.28.0.0.
For example, the outside world considers the device at 144.28.16.22 to belong to the 144.28.0.0 network. As a result, a packet sent to this device will be delivered to the router at 144.28.0.0. The router then considers the subnet portion of the host ID to decide whether to route the packet to subnet 16 or subnet 32.
About This Article
This article can be found in the category: