Heard of Facebook? Then you likely have a general idea of what social media is. It's a great place to meet other drone enthusiasts and experts, doesn't it? Social media isn't just for people; it is also for brands. Sometimes companies will interact with their customers and supporters more so on social media because of the residual impact it can have on brand awareness through the increased public chatter.
Whether you want to connect with people or companies, there are endless numbers of social networks all over the globe to help you. If you don't already have a social network of choice, here are a few to consider:
Facebook: The largest global social network, Facebook is home to over 1.3 billion users. Create a personal profile, and connect with family, friends, colleagues, classmates, companies, public figures, and brands. Create discussion, share media, and otherwise be "social." Facebook is home to a seemingly infinite amount of special interest groups where users can gather around a common interest or passion. Check out the Quad-copters page.

Credit: Courtesy of Tucker Krajewski

Quad­copters Facebook Group.

Google+: Another large global social network, Google+ has several features allowing users to better categorize their friends and control the flow of information between those groups of friends. Like Facebook, Google+ has numerous groups that center around drones.

Instagram: If you want to create and share photos, Instagram is the platform for you. This social network is primarily a mobile-only network and is centered on capturing and sharing pictures and video. Connect with other drone users by categorizing your drone images with descriptive hashtags like #drones, #quadcopter, and so on.

Credit: Courtesy of Tucker Krajewski

Instagram is a network of user-curated content.

YouTube: YouTube.com is the world's largest repository for video. Go to YouTube to find videos of almost anything. YouTube is a great place to find helpful videos on drones and connect with the drone enthusiasts making the videos. Publish your own drone content to YouTube to attract the attention of other flyers! YouTube also allows users to curate public content into channels that users can subscribe to.

Credit: Courtesy of Tucker Krajewski

YouTube offers endless channels of drone content.

LinkedIn: The leader in professional online networking, LinkedIn is connecting people professionally better than any other social network. One quick search for "Drones" will reveal professionals working in the UAV industry, LinkedIn groups for drone enthusiasts, drone companies, and more.

Credit: Courtesy of Tucker Krajewski

Searching for drone groups on LinkedIn yields pages of results.
When you search for drone groups on social media, try narrowing your focus to include more geographically specific group searches. For example, a quick search on Facebook for Washington DC Drones serves up the D.C. area Drone group. Finding a local group is a great way to get connected with drone users in your area.
Drone Meetups
Meetup.com is a new social network that is designed to help people get together in real life. That's right, flesh and blood interaction is being aided by digital technology! Meetups.com is a great place to get plugged in with other drone flyers so that you can get out there and start flying.
Check out the homepage for the Indianapolis drone flyers group. Residents of Indianapolis and nearby can join the group to interact with others online and get notified of events for the group.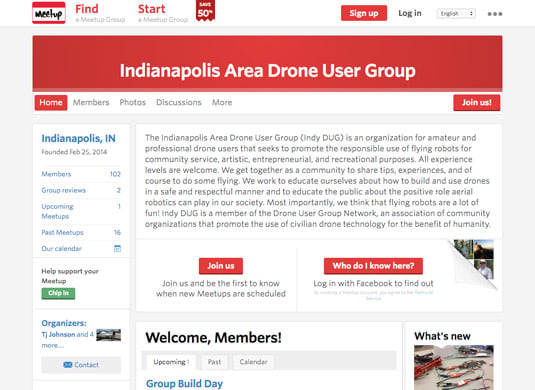 Credit: Courtesy of Tucker Krajewski
Indianapolis drone flyers Meetup.
The great thing about Meetup.com is that they require you to commit to meeting in person. This is great for motivating people to get out there and socialize!
Google Groups
What doesn't Google do? Years ago, when smartphones exploded in popularity, people joked about how there was always "an app for that." Or maybe, there is a Google tool for that.
Google Groups was designed to give people the opportunity to create their own discussion forum on specific topics. Google Groups allow you to get your own forum up and running with little technical knowhow. One great Google Groups feature is that users don't have to log in through a computer to access their group. Users can stay connected and correspond by email, meaning they never have to log into the Google Groups website. This is a great way to stay plugged in without ever having to log on!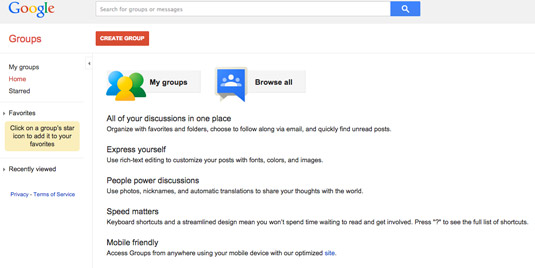 Credit: Courtesy of Tucker Krajewski
Google Groups.
About This Article
This article is from the book:
This article can be found in the category: