Buying a drone that comes with support to add your own camera is a great option for photographers and videographers that have a greater concern for the quality of the images and video they intend to capture. Of course, this option does come with its own bag of goodies and bummers.
The pros to purchasing a drone with add-on camera support include:
Camera options: With this sort of drone, you can control what camera you fly. If you want to fly an action camera, cinema camera, or DSLR, the only thing standing in your way is your drone's payload limitation.

Battery life: Your camera runs on its own battery which means that constant video or photo usage will not impact your drone's battery life.

Total control: With picking your own camera, you can control the way you capture footage, the format of your footage, and the way your footage is stored. You also get more options for how you stabilize your camera with additional mounting hardware like Gimbals.
The cons to purchasing a drone with add-on camera support include:
Weight: Depending on the camera and lens that you use, your rig could get extremely heavy pretty quickly. Flying a heavier rig will require a more powerful rig, which doesn't come cheaply.

Finesse features: Drones with integrated cameras usually come with slick features like streaming video to an iPhone or tablet, remote video and camera controls, and remote streaming recording. These features are possible with third party cameras and hardware, but the features won't be integrated into your drone's flight software, which means you may need some extra hands.

Technical support: When you crash your drone, you'll need to call your drone manufacturer for concerns relating to your drone. You'll need to contact your camera manufacturer separately to get repairs, address warranty issues, and other things along those lines.

Price: If you don't already have your camera equipment, you'll need to purchase the camera equipment and that can drastically inflate your costs to get up and running.
Action cameras
Action cameras live up to their name because they are designed specifically to capture traditional and extreme sports. Action cameras typically capture video footage at extremely high frame rates making the fast movements look smooth at normal speeds or in slow motion. Action cameras are also very durable and designed to be in extreme situations.
Not only do action cameras gather high-quality footage in extreme situations, they are also extremely compact which makes them ideal for pairing with a drone. There are several action cameras available to consumers but the GoPro brand of cameras has solidified themselves as the industry leader.
Other players, if you want to call them that include Sony, JVC, and Garmin, but none of them even remotely compares to the GoPro.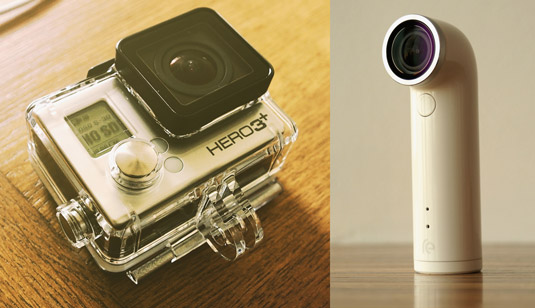 Credit: Source: TechStage/Creative Commons
Two types of action cameras.
Point-and-shoot/compact cameras
The term point-and-shoot is primarily used to describe small compact digital cameras designed for inexperienced photographers. They make taking good photos and video easier by providing, almost exclusively, auto features like auto light adjustment, auto color adjustment, auto focus, and auto zoom. Small point & shoot cameras can be as small as a small stack of credit cards. Bigger point-and-shoot cameras are available, however, that offer additional features such as manual controls, interchangeable lenses, and lens attachments, to name a few.
Point-and-shoot cameras also offer the user an affordable way into the world of video. Most point-and-shoot cameras come equipped with a video feature. This is handy if you are a budding videographer because you can check out video without needing to make much of a financial commitment.
Point-and-shoot cameras are designed for ease of use and low cost. The quality of the pictures and video is fantastic given the price and available controls and features, but these are not intended to satisfy the desires of the more experienced photographer.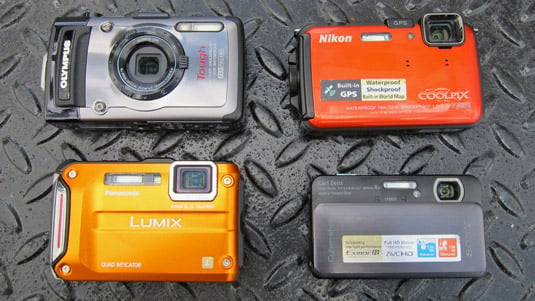 Credit: Source: http://img.gawkerassets.com
Point-and-shoot cameras are cute.
DSLR cameras
DSLR stands for digital single-lens reflex. There are several types of DSLR cameras on the market and they all range in size and price. DSLR cameras are wonderful for capturing stunning images because they have large image sensors, interchangeable lenses, several file storage modes, and depending on your camera, a whole slew of manual control features.
Most of the major electronics manufacturers have a line of DSLR cameras ranging in size, features, and price. If you don't already have a DSLR, be prepared for option overload! However, you can always focus on the big two: Nikon and Canon.
Using a DSLR camera with a drone is going to present several obstacles to overcome with the main one being price. DSLR cameras, lenses, and other accessories are expensive. They are also heavy which means that you will need a drone powerful enough to be able to not only lift your gear, but have enough power and battery to be able to sustain fly times that will be worthwhile.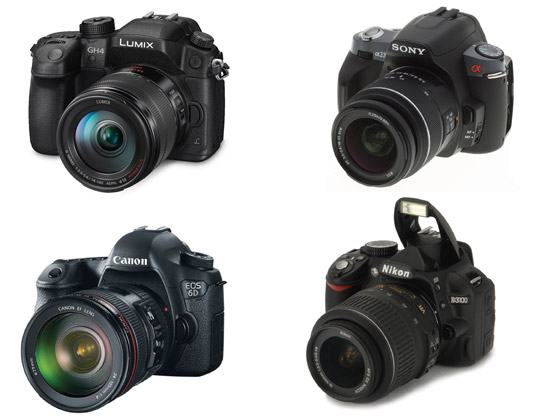 Credit: Courtesy of Tucker Krajewski
DSLR cameras and lenses.
Cinema-quality cameras
If you are serious about video, you may be thinking about using a cinema-quality camera. There are several high-quality digital cameras that can be used to capture insanely good video footage without totally breaking the bank. The reason these are referred to as cinema-quality is because they capture that caliber of footage but won't require you to put a fourth mortgage on your home in order to buy them. However, weight is an issue.
One very popular cinema-quality camera is the Black Magic Pocket Cinema Camera. This camera is compact, and it supports popular DSLR lenses as well as higher-end cinema style lenses. Lenses are funny because the bigger and heavier they are, the more they cost.
Another powerful cinema-quality camera is the Canon C-series of cameras. This series of cameras is built specifically for video. They support Canon DSLR lenses, and their quality far surpasses action cameras, DSLR cameras, and other consumer grade video cameras.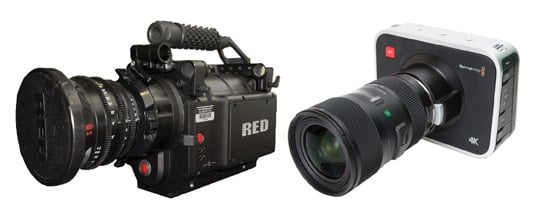 Credit: Courtesy of Tucker Krajewski
Popular cinema-quality cameras.
About This Article
This article is from the book:
This article can be found in the category: