Drones have played a role in the theater of war for over a century. From the bomb-filled balloons of the 19th century to modern drones that resemble something from science fiction, drones have evolved as they have taken center stage in modern warfare and domestic security operations.
Currently, the CIA uses drones primarily to carry out surveillance, although they have some authority to use drones to carry out strikes. The U.S. Armed Forces use drones to carry-out surveillance and combat missions and the department of homeland security uses drones to monitor the American borders.
The U.S. Government currently uses and is testing several high-tech drones, called unmanned aerial systems, or UAS, for short.
General Atomics Predator
The Predator drone was first conceived in the early 1990s but didn't actually see use by the federal government until the mid to late '90s. It was originally used for surveillance and reconnaissance but later was fitted with a combat payload, primarily Hellfire missiles which are an air-to-surface, 100 lbs., rocket-powered missile.
The predator's remote piloting system has evolved greatly since the '90s. Advancements in satellite technology has made it possible to manage remote takeoff, landing, and flight from thousands of miles away. There are several hundred predators in use by the U.S. Air Force (USAF) and the CIA but they will be slowly phased out and replaced by the newer version, the Reaper.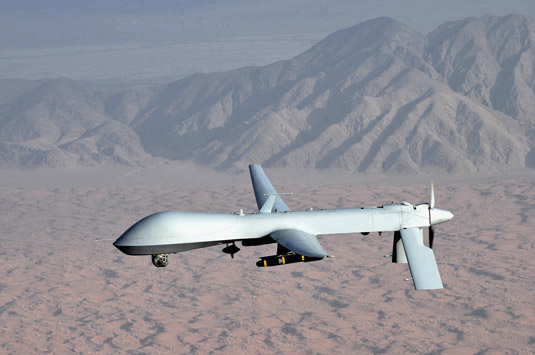 Credit: Source: U.S. Air Force photo/Lt Col Leslie Pratt
The USAF's Predator drone.
General Atomics Reaper
The Reaper is the newest evolution of the famed predator drone. It is faster, more powerful, and more capable in surveillance and combat scenarios. The reaper can fly for 42 hours without a munitions payload and 12 hours with a full munitions payload. The reaper is also capable of carrying several different arms such as laser guided bombs, air-to-surface missiles like the Hellfire, and it will soon be capable of carrying and using air-to-air attack missiles for aerial combat.
The Reaper is staked with surveillance capabilities and is rumored to be able to read a license plate from a distance of 2 miles. The advancements in technologies have made the reaper a prime candidate for domestic surveillance, disaster assistance, border monitoring, and homeland security.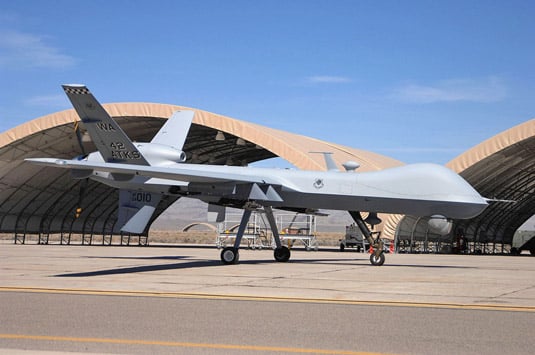 Credit: Source: United States Air Force photo by Senior Airman Larry E. Reid Jr.
The USAF's Reaper drone.
Elbit Systems Hermes 450
The Department of Homeland Security and the U.S. Armed Forces use the Hermes 450 primarily for surveillance and reconnaissance. The Hermes 450 can fly at high-altitudes for extended periods of time, making it extremely useful for monitoring large stretches of open territory. The Hermes has yet to be fit with a munitions payload to allow it to have attack capabilities in a combat scenario.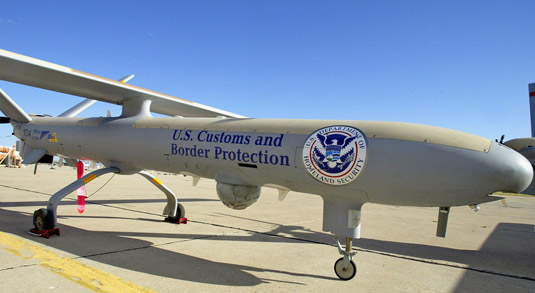 Credit: Source: Gerald L. Nino.
Department of Homeland Security's Hermes 450.
Northrup Gruman Global Hawk
First developed in 1998, the Global Hawk went through several revisions before it made its debut in the U.S. Air Force's arsenal of surveillance tools. The Global Hawk set several world records, one of which being the first un-manned aerial vehicle to cross the Pacific Ocean when it flew from Edwards Air Force Base to RAAF Base Edinburgh in Australia. The flight totaled more than 8200 miles. The Global Hawk also set endurance records by flying for more than 33 hours at altitudes topping 60,000 feet. The Global Hawk is primarily used for global surveillance.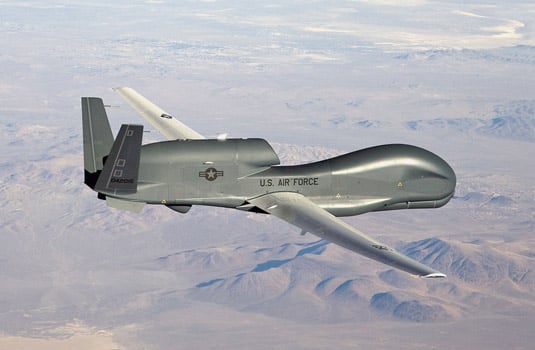 Credit: Source: U.S. Air Force photo by Bobbi Zapka
The Northrup Gruman Global Hawk.
Boeing X-37B
Originally developed by Boeing for NASA, the X-37B is classified as an Orbital Test Vehicle or (OTV). The USAF has conducted three missions with the X-37B and has thus far been very secretive on the test missions as well as the intended uses of the X-37B.
The most recent flight of the X-37B saw it remain in low orbit for 674 days before being guided back to Vandenberg Air Force Base in California. The X-37B is nearly 30 feet in length and 10 feet in height. Its orbital cruising speed is slightly over 17,000 miles per hour.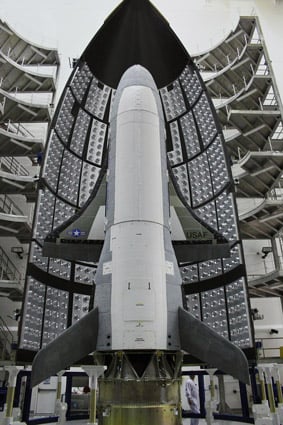 Credit: Source: US Air Force
The Classified Boeing X-37B, Orbital Test Vehicle.
Smaller drones
The U.S. Armed Forces also use small drones for carrying out battlefield reconnaissance, laser target for missile strikes, and general surveillance. Smaller drones can be launched by hand and remotely piloted using GPS or by first person view. These systems can carry out orders with or without human intervention, making them excellent options for autonomous, constant surveillance.
About This Article
This article is from the book:
This article can be found in the category: