Apple CarPlay is the new way to use your iPhone in your automobile. Since cellphone-related car crashes rank number one across the globe, Apple knew it was time for a change. Developers at Apple, accompanied by many major automobile manufacturers, have come up with a "smarter and safer" way to use your iPhone. Once your iPhone is connected to your car's stereo, hands-free apps will display on the car's onboard screen instead of on your iPhone.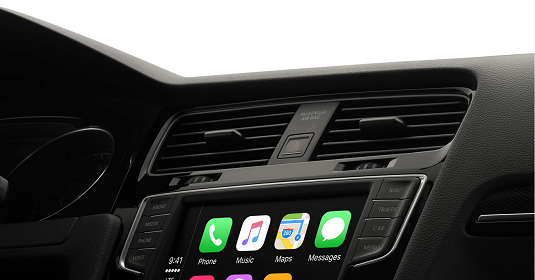 Credit: Image courtesy of Apple.com
Using CarPlay gives you a seamless hands-free experience.
Apple thought long and hard about how to execute a smooth hands-free experience. CarPlay offers three different ways to control your iPhone:
Siri voice control

Stereo buttons, dials, and knobs

Stereo touchscreen
The new features that come with iOS 9 and supported car stereos keep you focused on your safety and the safety of other drivers.
Not all iOS 9 devices are supported. iPhone 5, 5c, 5s, 6, 6s, and 6s+ are currently the only devices supported by Apple CarPlay. To see what car models and stereos support Apple CarPlay, visit the Apple.com website.
Supported iPhones that are updated to iOS 9 offer built-in applications and downloadable applications. You can access the downloadable applications in the App Store.
The built in applications supported by CarPlay are listed as follows:
Maps

The accuracy and detail of Apple's Maps application is now available right from your car's stereo display. The Maps app offers directions, road and traffic conditions, and estimated travel time. Maps can even suggest places by collecting data from other built-in iOS applications such as calendar, contacts, mail, and messages.

Messages

When the Messages app is being used through CarPlay, reading and writing is disabled. Instead, Siri will speak the messages to you through the car's stereo speakers and you reply by talking back to Siri. If the Siri voice conversation/interaction is unsettling for you, voice messages can be used instead. Voice messages are only available iPhone to iPhone.

Music

CarPlay allows access to your Apple Music account. You can rock out to Apple's Beats radio stations or your own personal iTunes library all directly from the dashboard of your car.

Now Playing

Now Playing is a shortcut icon that takes you directly to whatever application is currently making noise through your automobile's stereo speakers. If you accidentally navigate to the Home screen and are not sure what application is being used, you can simply tap the Now Playing icon to find the culprit.

Phone

Like other hands-free devices, the Phone app paired with CarPlay allows you to make and receive calls, as well as listen to voicemails. When a call is coming in, your music or audio pauses and an on-screen notification will display on your car's stereo telling you who is trying to contact you. Once you've ignored or completed your call, your audio will resume automatically.
Many new applications are being added to the CarPlay lineup every day. Audible, Audiobooks, iHeartRadio, NPR, Pandora, Podcasts, Slacker Radio, and Spotify are the frontrunners in the list of supported apps.
To access other supported applications, simply download the applications to your iPhone and coordinating icons will display on CarPlay.
About This Article
This article can be found in the category: