Penetration (pen) testing is used by many organizations to ensure that the security controls they put in place actually work. Pen testing and security are complicated topics and can be intimidating. This cheat sheet covers basic pen testing terminology you need to know, the most commonly used pen testing tools, and a list of commonly sought-after certifications in the field of pen testing.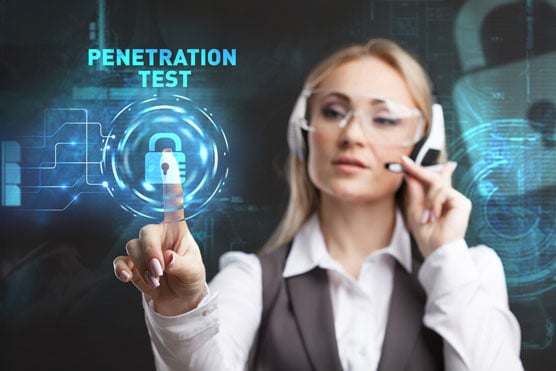 © Den Rise/Shutterstock.com
Penetration testing terminology
One of the key factors for being successful in pen testing are the important terms are used day to day in the field. This is a list of well-known terminology:
Cybercrime: Conducting a cybercrime is the act of conducting criminal activities such as theft, destruction, and identify theft (for example) using technology such as computer systems and networks. Hackers generally attack systems to exploit them conducting criminal activity. As an ethical hacker you will legally conduct the same hacking, only ethically for a company's betterment and defense, not the contrary.
Penetration testing: Penetration (pen) testing is the act of conducting a security exploit against a system ethically and legally to identify a weakness once completed. Pen testing is an entire methodology used to conduct security analysis that attempts to circumvent security applied to a system.
Vulnerability testing and scanning: To know what exploits, weaknesses, and vulnerabilities exist, you must conduct a scan of a system, network, or infrastructure to identify them. A vulnerability assessment is the analysis of what is identified when a vulnerability test (or scan) is conducted. Usually the tool(s) used are uploaded with current vulnerability definitions that allow the system to more readily find current weaknesses in systems.
Reconnaissance: The act of reconnaissance is the subvert nature of finding a penetration point. By checking out an attack vector, probing a system and identifying a possible entry point, you can conduct a pen test to test real-world and real-time situations that may need to be fixed.
Infiltration and exfiltration: Infiltration takes place once a penetration has been established. You have successfully found an opening into a secure system and entering the system (likely undetected) is the beginning of an advanced persistent threat type test or APT. The theft of and leaving with and unauthorized transfer of information from an information system is exfiltration. Conducting both of these measures is part of an advanced or extended portion of the basic penetration test.
Incident handling and response: Incident response is the movement of a group of security professionals to handle an unauthorized security event on protected systems. The incident handling portion is what an incident response team does to protect the chain of evidence and mitigate or neutralize the threat. Pen testing allows for incidents to be found prior to having to respond to them and when they are found, they can be added to a risk register for handling.
Risk register management: Risk handling, management, and lowering risk through documentation of known risks in a risk register is part of an overall security program. Pen testing allows for the development of known risks to be identified or allows for known risks to be closed on the register by fixing them and running pen tests to ensure that there is no longer a threat.
Commonly used pen testing tools
In the field of pen testing, there are many, many tools you can use. A few are:
Pen testing certifications
Professional organizations and vendors both offer industry standard, generalized and specialized certification programs, as well as those based on specific vendor tools. Some of them mix the two. Here are the most popular among the list with details on how to obtain them:
About This Article
This article is from the book:
This article can be found in the category: