The Kodi screen on your Raspberry Pi looks like what you see here. LibreELEC uses Kodi's simple interface, which is designed to work with only a remote control. If you're using a remote control, you should find the interface intuitive.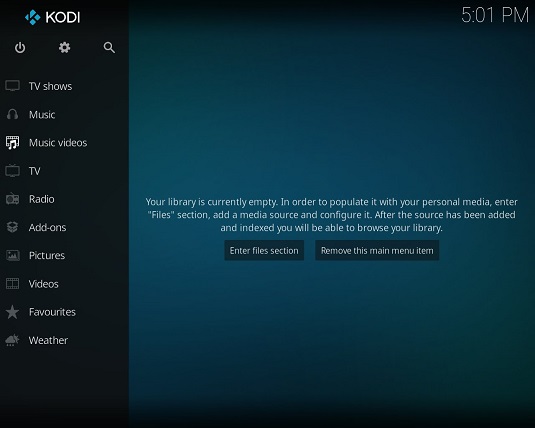 The main menu on the left and the empty library area on the right. This shows how Kodi appears before media is added.

The menu on the left side of the screen gives you access to the different content types, including movies, TV shows, music, and music videos. When you hover the mouse pointer over one of these options, the main screen area on the right shows you options and submenus for accessing your content.

The Music section, for example, shows you categories you can browse, recently played albums, recently added albums, random albums, random artists, unplayed albums, and most played albums. You can use the cursor keys to move around the options; or the mouse, with the scroll wheel moving between the options within a menu. To exit a menu, press the Escape key.

To select an item and start to play it, simply click it. You can pause playback by tapping the spacebar, and tap Escape to get back to the menu.

To use the TV and radio features, you'll need to have a separate tuner device and TV signal decoding software.

At the top of the menu on the left are buttons for switching off your Pi, accessing the settings menus (the Cogwheel icon), and searching for content (the magnifying glass).
About This Article
This article is from the book:
This article can be found in the category: