Most people who use a computer find the meed to move information between programs at one time or another. The process is easy enough. Just follow these simple steps.
Click the File Explorer button in the taskbar to open it.
Browse and open documents in two programs; in this example, open Microsoft Word and WordPad.
Right-click the taskbar and choose Show Windows Side by Side or Show Windows Stacked.
Select the information that you want to move (for example, click and drag your mouse to highlight text or numbers, or click on a graphical object in a document).
Drag the selection to the other document window.
Release your mouse, and the information is copied to the document in the destination window.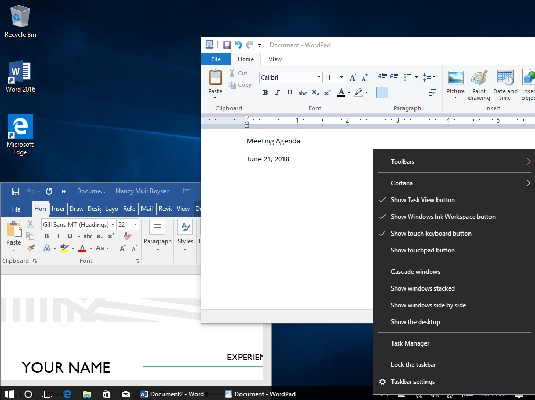 You can also use simple cut-and-paste or copy-and-paste keystroke shortcuts to take information from one application and move it or place a copy of it into a document in another application. To do this, first click and drag over the information in a document, and then press Ctrl+X to cut or Ctrl+C to copy the item. Click in the destination document where you want to place the item and press Ctrl+V. Alternatively, you can right-click selected content and choose Cut, Copy, or Paste commands from the menu that appears.
Remember, dragging content won't work between every type of program. For example, you can't click and drag an open picture in Paint into the Windows Calendar. It will most dependably work when dragging text or objects from one Office or other standard word-processing, presentation, database, or spreadsheet program to another.
About This Article
This article is from the book:
This article can be found in the category: