After you connect your monitor, keyboard, and mouse to your new computer and your computer is plugged into an electrical outlet or strip, you're ready to turn it on and then log on. Simply press the power button on your computer to begin the Windows 7 start-up sequence.
In the resulting Windows 7 Welcome screen, enter your password, if you have one. If you haven't set up the password protection feature for more than one user, you're taken directly to the Windows 7 desktop.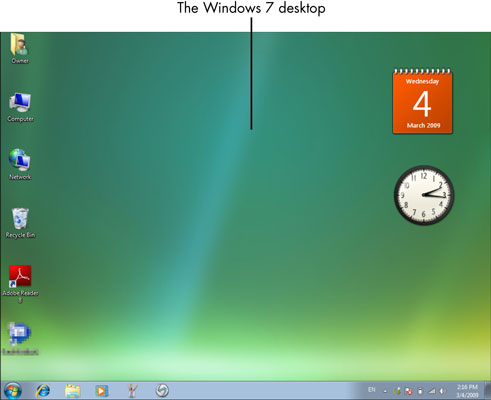 After you set up more than one user, before you get to the password screen, you have to click the icon for the user you want to log on as.
If you've set up multiple users, click the arrow button or click Switch User and choose another user to log on as. Then type your password. Windows 7 verifies your password and displays the Windows 7 desktop. (Note:) The icons on your desktop may vary depending on what programs your computer manufacturer may have installed.
After you're logged in, to change to another user account, first save any open documents, close any open applications, and then choose Start. Then click the arrow next to the button, labeled Shut Down, in the bottom-right corner of the Start menu and choose Log Off. Windows 7 logs off and displays a list of users. To log on again, click a user icon.
To create another user, choose Start@@→Control Panel, and, under the User Accounts and Family Safety heading, click Add or Remove User Accounts. Then click Create a New Account. Follow instructions to enter a name for the account and set a password for it, if you like.
About This Article
This article can be found in the category: