Your keyboard is the primary input device for your PC. Knowing how to control the keyboard or change keyboard settings is critical to operating your computer.
After pressing and holding a key for a given time, that key repeats. The pause before the key repeats is the repeat delay. The rapidity at which the key's character (or function) repeats is the repeat rate. Both these items that control the keyboard are set by using the Keyboard Properties dialog box, as shown in the following figure. One additional item is available in this dialog box: The speed at which the cursor blinks is referred to as the blink rate.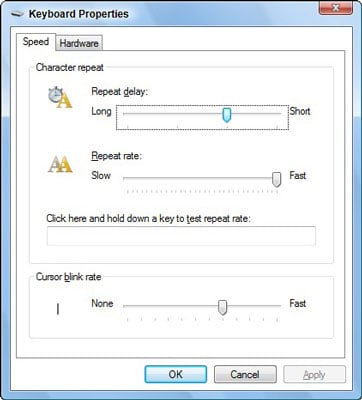 Control your keyboard using this dialog box.
To open the dialog box, from the Control Panel Home choose Hardware and Sound and then Keyboard. Or, from the Control Panel Classic view, open the Keyboard icon.
Within the Keyboard Properties dialog box, use the mouse to manipulate the sliders in the dialog box to set the rates, and then test out the rates in the text box that's provided. Click the OK or Apply button only when you're happy.
About This Article
This article can be found in the category: