Bright afternoon sunlight is harsh for photographing nature. However, sometimes you're forced to shoot in the middle of the day — such as when you're visiting a place and have no control over the time of day when you'll be at a vista that you'd like to photograph.
If this is the case, you have two choices: Photograph the area or leave your camera in the camera bag. If you choose the former, you can use certain tricks to capture a decent photograph.
The best possible situation is midafternoon with broken clouds. When the sun ducks behind the clouds, they will diffuse the light and you can still get good pictures. If you're lucky enough to have some clouds in the sky, you'll at least have some interest — and if there are enough clouds, some interesting shadows as well.
You can get good photographs of wildlife and birds in harsh light. The trick is to stalk the animals and photograph them when they perch in a tree or get out of the direct sunlight. If you shoot an animal or bird in direct sunlight in midafternoon, there will be almost no detail in the shadow areas because of the high-contrast light.
One option you have when photographing in the middle of the day is to take multiple exposures of the same scene with your camera on a tripod, and then convert the captures into HDR images (see Chapter 12). This works best if the sky has some clouds. An HDR image without clouds is like a juicy hamburger without French fries. It's just not right.
The high-contrast lighting of midafternoon is not the ideal situation for color photographs. However, high-contrast images are ideal candidates for conversion to black-and-white photographs (see the figure).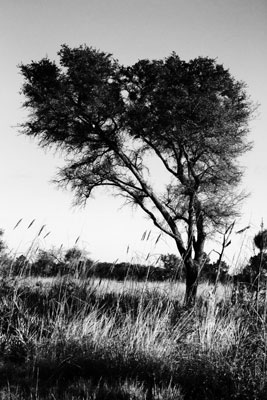 Many image-editing applications give you the option to convert an image to black and white. Nik Silver Efex Pro 2 is a plug-in for Adobe Photoshop Lightroom, Adobe Photoshop, and Apple Aperture that converts color images to black and white. The application features several presets that you can tweak to create the look you want. It also has options that replicate popular black-and-white film.
When you take a photo vacation, schedule your photography for early morning and late afternoon. Take care of trivial details like eating and being a tourist after your morning photo shoot and before your late afternoon photo shoot.
About This Article
This article can be found in the category: