Wood shipping pallets are a great option for creating highly effective composting systems, especially when you have a lot of organic matter to process. You can build a compost bin from wood pallets in a few easy steps. The whole process is described here, but first take a look at the pros and cons of using pallets to make your bins:
Advantages: They're free and the perfect size! You've probably seen pallets piled at construction sites or stacked at loading docks behind businesses and warehouses, awaiting recycling or disposal. Explain to the head honcho you'd like to recycle some to make a compost bin. Most places pay to have them hauled away and are happy to oblige. Look pallets over to make sure they're in decent shape before carting them home.

In North America, pallets commonly measure 40 x 48 inches, which creates a bin size that is ideal for composting. But other options work, as long as they provide you with a 3- to 6-foot (1- to 2-meter) square shape.

Disadvantages: Depending on size and type of wood, a single pallet can weigh 20 to 50 pounds (9 to 23 kilograms). Pallets aren't as easy to reposition around the yard as some choices, but they're still faster to move and set up than concrete blocks or straw bales.
Here is all you need to gather for this project:
Four same-sized pallets per bin. Pallets with narrow spaces between slats hold back organic materials better than those with wide spaces.

Baling wire or nylon rope to lash pallets together at the corners.

Wire cutters or a utility knife to cut ties.
One person can assemble a shipping pallet compost bin, although it goes smoother with two: one to hold the pallets upright and steady while the other ties them together. Follow these steps to erect the bin:
Level the ground where your bin will be.

Set the pallets upright in a box shape.

Lash the pallets securely together at the corners with wire or rope ties.

The front pallet acts as a hinged door, allowing you to access your compost by undoing the ties on one side and swinging it open. You can also remove the entire pallet to have wider access when adding or turning organic matter.
Add second and third bins to your first shipping-pallet bin using common side walls. You need three pallets for each additional bin.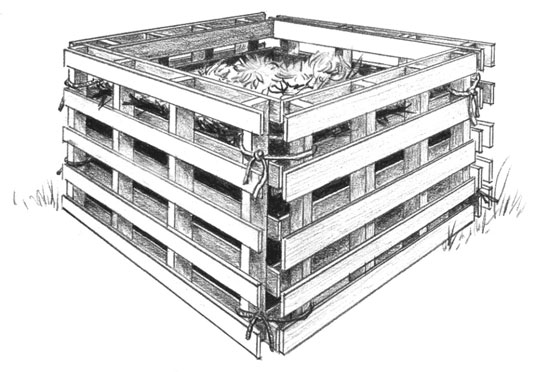 Build a compost bin from shipping pallets.
About This Article
This article is from the book:
This article can be found in the category: