Staking garden plants, tying them to a trellis, or growing them inside wire cylinders reduces disease problems because it allows for better air circulation and keeps the fruits off the ground where they may be attacked by pests or become sunburned.
Some vegetables, like peas and beans, have climbing habits that require some type of support. Other edibles — including tomatoes, cucumbers, and melons — have sprawling habits that benefit from staking or support. Supported plants also are easier to harvest and require less space to grow.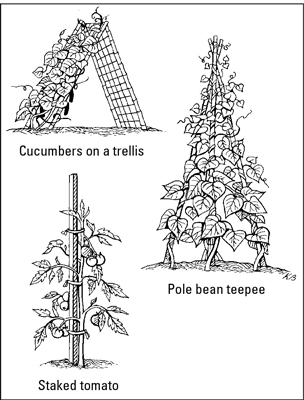 Support vegetables using one of these techniques.
Beans and peas: Twining or clinging plants like beans and peas grow best when they're supported by some type of string trellis. An A-frame string trellis enables you to grow plants on both sides, but single poles are fine, too.

Handmade wooden teepees are a great way to support your beans, and kids love them because they're great places to hide. Leave one side of the teepee open so your kids can get inside, and then plant beans around the base of the teepee. In time, the beans will cover the trellis, creating a great fort for your kids.

Melons and cucumbers: You can plant bush varieties of melons and cucumbers inside small (2- to 3-foot-high) wire cylinders similar to those used for tomatoes. But for more vigorous varieties, use a sturdier version of the A-frame trellis that's used for beans and peas. Instead of using string, cut 6-foot-by-6-foot pieces of hog fencing (it has 6-inch squares) and nail them to each side of the trellis. The wire provides better support for heavy fruit (like melons) than string does, and the wide-open fencing doesn't constrict the growth of the fruit (so you get straighter cucumbers). You can purchase hog fencing at agricultural stores.

You also can grow melons on a trellis. Choose small-fruited varieties of watermelon or any variety of cantaloupe, and plant your seeds at the base of the trellis. Tie the vines to the trellis as they grow. After a fruit forms, slip the leg of an old nylon stocking over the fruit, tying the bottom of the stocking in a knot. Then tie the other end of the stocking to the wire trellis so that the fruit is supported. As the melon grows, the stocking expands and supports the fruit, which may break off otherwise.

Tomatoes: You can support tomato plants by tying them to stakes pounded into the ground next to the plants. You can grow them inside wire cages, which you can buy at nurseries or easily build yourself out of hog fencing. Or you can construct string or wire trellises, like you do for beans and peas.

If you're growing indeterminate tomato varieties, which keep growing and producing fruit all season, choose or build cages large enough to support the huge plants that will grow. Also be sure to secure them to the ground well so they don't blow over during a summer thunderstorm.
About This Article
This article is from the book:
This article can be found in the category: