Pruning plants isn't just about shaping them. It impacts how well your plants will grow. A mixture of hormones and food controls a tree's growth. Some of the tree's important hormones — growth stimulators or regulators — come from the bud at the tip of each leafy shoot or branch, which biologists call the apical, leading, or tip bud. The tip bud stimulates new, lengthy, vertical growth and stifles the growth of lower potential shoots — called dormant buds. When you clip out any tip bud, you take away the stifling tip hormones and their dominance. The dormant buds below the cut burst into growth and begin to produce the tip hormones themselves.
When a branch is positioned at a 45- to 60-degree angle, the flow of carbohydrates, hormones, and nutrients naturally favors the formation of flower buds. With many deciduous fruit trees, like apple, almond, and pear trees, the flower buds become long-term fruiting places, called spurs, in the following years.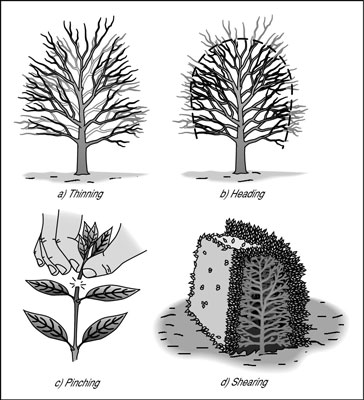 You prune plants by using the following techniques:
Thinning cuts: Whether you're pruning mature trees or tomato seedlings, thinning cuts remove an entire branch or limb all the way to its origin to create better air circulation or to reduce crowded conditions. Always make thinning cuts to just above a dormant bud. Cut at a slight angle and leave about 1⁄4 inch (0.6 cm) of the shoot above the bud — not a long stub.

Heading cuts: These cuts shorten a branch or stem but doesn't remove it entirely.

Pinching: This action can be either a heading or thinning cut. Usually, you pinch soft growth between your thumb and forefinger. Pinching is handy with soft annuals and perennials, but also good for larger plants, if you do it early enough when their shoots are still young and soft. Any pruning done at this early stage is ideal because the plant suffers minimal harm and recovery is quick.

Shearing: For this cut, use scissorlike pruning "shears" to keep hedge lines straight and neat. Boxwood and yews are commonly sheared.
About This Article
This article can be found in the category: