The European Union has set up a system to recognize and protect agricultural products (such as wine, cheese, olives, hams, and so forth) that come from specific places so that companies in other places can't make products with the same name and thus confuse consumers.
Wines from all the classic wine regions of E.U. member countries (France, Italy, Spain, Germany, and so forth) are covered under this system. When you see the label of a European wine that's from a recognized, protected place, you'll find a phrase to that effect.
Actually, two different phrases exist because European wines from protected places fall into two categories:
Wines named for places where production is highly regulated so that the very place-name of the wine not only defines the territory of production but also connotes the wine's grape varieties, grape-growing methods, and winemaking techniques

Wines that carry the protected names of larger places where winemakers have more freedom in terms of the grape varieties and production methods they use
The E.U.'s mandated phrases for these two types of place-name wines are:
Protected Designation of Origin (PDO), for the most regulated wines.

Protected Geographic Indication (PGI), for the less regulated wines from registered regions.
In theory, every bottle of European wine — except for the most broadly sourced, least expensive wines — carries one of these two phrases on its label.
But in practice, the situation is much more complicated, especially at the moment. How?
For one thing, each country can, and does, translate the words Protected Designation of Origin and Protected Geographic Indication into its own language on its labels.

Second, because these E.U. designations went into full effect only in 2012, many wine labels still carry the phrases that were previously used by each country to designate a wine's category of origin.

And finally, each country can permit its wineries to continue using the former phrases rather than the new phrases.
If you're getting into French, Italian, or other European wines and see a long, foreign phrase on the label that's adjacent to the place-name or region of the wine, know that it indicates an officially protected geographic zone.
Incidentally, the phrase for a registered place-name in the United States is American Viticultural Area (AVA). But the phrase doesn't appear on wine labels. Nor does any such phrase appear on labels of Australian or South American wines. Nor do two different degrees of regulations exist, as they do in the European Union.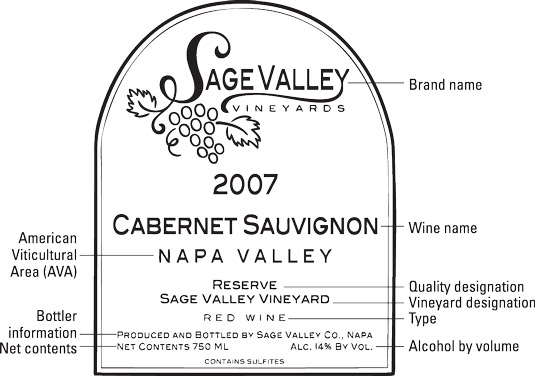 The label of an American varietal wine.
Label terms that mean PDO (Protected Designation of Origin)
Here are the phrases — first in the new terminology and then in the original terminology — that you might find on labels of PDO wines from the major European countries. In all cases, the phrases translate more or less as "Protected Designation of Origin":
France: Appellation d'Origine Protégée (AOP) or Appellation Contrôlée or Appellation d'Origine Contrôlée (AC or AOC, in short)

Italy: Denominazione di Origine Protetta (DOP) or Denominazione di Origine Controllata (DOC); and for certain wines of an even higher status, Denominazione di Origine Controllata e Garantita (DOCG)

Spain: Denominación de Origen Protegida (DOP) or Denominación de Origen (DO), as well as Denominación de Origen Calificada (DOCa) for regions with the highest status (of which only two exist: Rioja and Priorat)

Portugal: Denominação de Origem Protegida (DOP) or Denominação de Origem Controlada (DOC)

Germany: geschützte Ursprungsbezeichnung (gU) or Qualitätswein; and for wines of higher ripeness, Qualitätswein mit Prädikat (QmP)
Here is a European wine label as it would appear in the United States, using the original place-name terminology.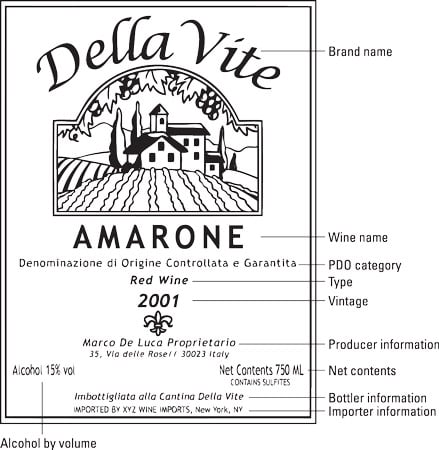 Credit: Illustration by Lisa S. Reed
The label of a European wine to be sold in the United States.
Label terms that mean PGI (Protected Geographic Indication)
Here are the phrases — first in the new terminology and then in the original terminology — that you might find on labels of PGI wines from the major European countries. In all cases, the phrases translate more or less as "Protected Geographic Indication":
France: Indication Géographique Protégée (IGP) or Vin de Pays followed by the name of an approved area

Italy: Indicazione Geografica Protetta (IGP) or Indicazione Geografica Tipica (IGT) and the name of an approved area

Spain: Indicación Geográfica Protegida (IGP) or Vino de la Tierra followed by the name of an approved area

Portugal: Indicaçõa Geográfica (IG) to refer to a region, but on a label, the original phrase, Vinho Regional (regional wine) and the name of an approved area

Germany: geschützte geografische Angabe (ggA) or Landwein and the name of an approved area
About This Article
This article can be found in the category: