This scarf is a straightforward garter stitch pattern that has an increase at the beginning of a row and a decrease at the end of a row to create bias fabric. A bias knit simply means that you knit diagonally rather than up and down or side to side. By using a long color-changing yarn, you make the scarf look like you used a variety of colored yarns when you actually used only one yarn and one color.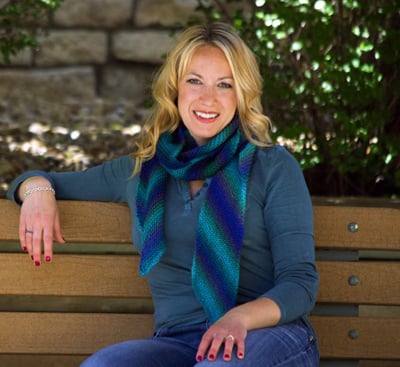 Credit: ©Marly Bird
Here are the materials and vital statistics for this project:
Measurements: 5 inches x 72 inches

Yarn: 100% acrylic yarn, approximately 279 yards per 3.5 ounces (100 grams), 2 skeins

Needles: One pair of size US 8 (5 mm) needles

Gauge: 24 stitches and 34 rows per 4 inches in bias garter stitch pattern
Create a bias scarf:
Cast on 30 sts.

Follow this stitch pattern:

Row 1 (RS): Knit front and back into first stitch, k to last 2 sts, k2tog.

Row 2 (WS): Knit.

Rep Rows 1 and 2 until piece measures approximately 72 inches, ending with a RS row.

Next row (WS): Bind off all stitches.

Weave in any loose ends and block scarf gently.
Don't like weaving in ends? Not a problem; just tie a knot in the tails of the old and new yarn at the change and leave the tails loose to create fringe along the length of the scarf. Bingo-bango — you've just added your very own design feature.
About This Article
This article is from the book:
This article can be found in the category: