Here's a crochet pattern for a simple throw rug made from several pairs of old jeans. If you'd like a larger size rug, increase the stitches in the foundation row, work more rows, and cut strips from more pairs of jeans.
Materials and vital statistics
3–4 pairs of jeans, depending on size
Hook: Crochet hook size Q U.S. (15.75 mm) or size needed to obtain gauge
Measurements: 30 in. x 17 in.
Gauge: 4 sts and 4 rows sc = 4 in.
Stitches used: Chain stitch (ch), single crochet (sc)
Directions
Cut the strips for this project into approximately 1 inch in width. This is a rare case where gauge isn't critical, so a bit of variation is okay.

You can cut fabric into strips for crochet in several ways. The most basic way is to simply cut the fabric into equal-sized strips and then knot, sew, or loop them together into one long, continuous strand. If you'd prefer not to join the fabric strips, follow this method:
Beginning with the short end of a twin-size sheet facing you, make a cut 1 inch in from the longest edge of the sheet.
Cut or tear the fabric, maintaining about a 1-inch width down the length of the sheet until 1 inch of fabric remains at the end; then stop.
Working in the opposite direction, make a cut 1 inch over from the last cut edge. Cut or tear the fabric in about a 1-inch width back across the length of the sheet until 1 inch remains; stop.
Repeat Step 3 until you've made a zigzag cut of 1-inch wide strips across the width of the sheet.
Starting at either the beginning or the end of your cut, wind the fabric strip in the same way you would a ball of yarn.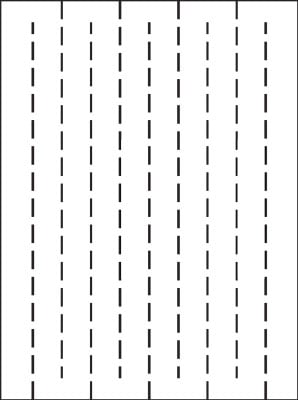 Cutting fabric into a continuous strip.
After you've cut all the strips, roll them into a ball, and you're ready to go.
Foundation ch: Ch 31.
Row 1 (right side): Sc in 2nd ch from hook, sc in each ch across (30 sc), turn.
Rows 2–18: Ch 1, sc in each sc across (30 sc), turn.
Fasten off after Row 18.
About This Article
This article is from the book:
This article can be found in the category: