Decorating Easter eggs can be fun for kids of all ages. Although dipping hard-boiled eggs in dye is a standard process, you certainly aren't limited to dip-dyed Easter eggs. Here are some of the many ways you can create unique, beautiful Easter eggs: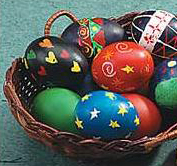 Dyeing: Want to dye eggs without a kit that has those handy dissolving tablets? Make your own egg dye by adding 25 drops of food coloring to 1/2 cup of boiling water and 1/2 teaspoon of white vinegar. Add enough water to cover the eggs. You'll be ready to dip those babies in no time.

To get a lighter color, don't skimp on the food coloring! Just take the eggs out of the dye a little earlier. Leave them in longer for a deeper shade of color.

Stamping: After your eggs are dyed, use fun stamps to decorate or customize your eggs. Emboss them if you want!

Glittering: Who knew that a staple in kid's crafting could look so glam? Brush a light layer of craft glue on your plain or dyed eggs and roll them in pastel colors of glitter. Let them dry on a sheet of aluminum foil or wax paper.

Waxing: Before you dye those eggs, use a white crayon to write names, draw designs, or embellish any way you want. The wax resists the dye, so whatever you draw on the egg turns out to be the original egg color. Try this after you dye eggs and double-dip into another color! Lay a small stencil on the egg surface and color it in with the crayon. You'll have lots of fun playing around with this technique.

Painting: Use craft paints to add designs to plain or dyed eggs!

Tissue paper: Tear or cut bits of colored tissue paper and layer them onto the egg for a stained-glass effect. Use watered down household glue to attach pieces to the egg surfaces and connect or layer the tissue as desired. After they're dried, seal with a few coats of clear-coat spray.

Pearlizing: Perhaps one of the most elegant ways to finish plain or dyed eggs is by dipping them in a mica substance called PearlEx Powdered Pigments by Jacquard. You can find this fine metallic powder in art supply stores, and it comes in many colors and finishes.

After dyeing your eggs, dip them into PearlEx and wipe with a soft cloth (do not brush). Rub and buff the egg, applying more PearlEx as desired until you get the desired look. Seal the finish with a satin finish clear-coat spray and allow it to dry.
About This Article
This article can be found in the category: