You've sourced a promising investment property, you've arranged appropriate financing, and you're ready to start your project. So, what now? Do you need professional help? You might.
Know where you need professional help
You can't do it all yourself. Even if you're an extremely skilled jack-of-all-trades, personally handling every element of the build or refurbishment is probably not the best use of your time — not if you want to really grow as an investor and build multiple income streams.

You'll need professional help if you're going to complete the project on time, on budget, and to a high standard. The key professionals you'll likely work with are
Architect and/or planning consultant
Project manager
Building contractor and tradespeople
Successfully managing development projects is about building a great dream team around you, and ideally that same team will work with you on many projects to come.
Work with an architect and/or planning consultant
If your project is a straightforward refurbishment, with no structural changes and no changes to the footprint of the building, then you probably won't need to hire an architect or planning consultant.

However, if your project is more complex than that, you'll want to employ an architect to turn your vision into detailed drawings and plans. On large or complex projects, it's vital to have accurate drawings done before you start work — builders need drawings to work from, after all (and, in many cases, they won't even be able to give an accurate quote for the work until they've seen the plans).

Depending on the scale of your project, the types of drawings/plans that you may need include
Existing and proposed floorplans for the interior.
Mechanical and electrical (M&E) drawings for the design and installation of plumbing, electrical, and other main services: This is often as detailed as how many sockets will be in each room, what sort of lights you want in each room, location of switches, how many lights are needed in each room, and so on.
Exterior elevations (again, existing and proposed), showing the features and design of the property's exterior and what changes are to be carried out there.
If the changes you're making to the property require planning permission, you'll need to work with a planning consultant, or for more simple applications hire an architect who can work with you to apply for the appropriate permissions.
Work with a project manager
The project manager is the person who'll oversee the project as a whole, booking tradespeople and generally keeping the project moving along as it should.

When you're just starting out, you may prefer to act as your own project manager.

Managing a big project can be a full-time job, so you'll need to weigh the pros (saving money, learning opportunities, and so on) and cons (time pressures, inexperience, sleepless nights!) of doing it yourself. As you get more established and take on more complex or larger projects, it's certainly worth hiring a professional project manager so you can concentrate on building your business.
How to work with builders and tradespeople
If your project is a fairly straightforward refurb, then you may prefer to complete some of the work yourself. You may, for instance, have a passion for landscaping or love decorating. If so, that's fine. But there will no doubt be areas where you need professional help. Structural changes, plumbing, and electrical should always be left to the pros, for instance — not least because they'll be insured for any blunders!

When it comes to sourcing good builders and tradespeople, the basic rules for any dream team member apply. Word-of-mouth recommendations are a great way to source good people, but you should still check out reviews of the company online and ask to see some of their previous projects. If you're employing a project manager, he'll be able to help or manage this process for you. Your architect may also be able to recommend good contractors.

When it comes to organizing the practical building/trades stuff, you have two options to choose from:
Work with a master or managing contractor, who'll run the build and manage all the subcontractors (plumbers, electricians, and so on) from start to finish. You'll pay more for the privilege (perhaps as much as 10 percent or 20 percent more), and you won't learn as much about the development process, but you'll benefit from the master contractor's experience and knowledge (provided he's reputable and good!), and you'll have more time to concentrate on growing your business.
You (or your project manager) employ separate builders and tradespeople for every element of the project, sourcing, booking, and overseeing the work yourself. This can save quite a bit of money and is certainly a good way to learn about property development, but it can suck up a lot of your time.
As your portfolio grows and you take on more and more development projects, you'll build a team and find a method that works for you.
Create a detailed budget
You'll have had a ballpark development cost in mind when deciding on the project and seeking finance, but now's the time to really flesh out the details and create a thorough budget.
Pull together costs
If you can build for less, that's more profit for you. So always shop around and get three different quotes for every substantial element of the project to find the best deal for you. Doing the legwork at this stage can really add value for you further down the line. Don't be afraid to try to negotiate a discount either!

The nitty-gritty of your budget will depend on the scale of the project and the specification that you're going for in terms of fixtures and fittings (which, in turn, will depend on your end goal and target audience), so there's no real rule of thumb to follow. However, to give you an idea of the types of costs to consider and budget for, the following table shows an example cost breakdown for the conversion of a large family home into a large multi-tenant HMO.

Example Cost Breakdown for a Refurbishment Project
| | |
| --- | --- |
| Item | Cost |
| Mains services connections (possible upgrades) | £1,100 |
| Demolition, site preparation, and strip out | £800 |
| Enabling works, ground works | £650 |
| Waste disposal, including skips | £1,800 |
| Drainage installation and upgrades | £750 |
| Roof work and repairs, including guttering | £650 |
| Carpentry, first fix | £1,750 |
| Plumbing, first fix | £6,250 |
| Electrical, first fix | £4,500 |
| Fire alarm, first fix | £2,250 |
| CCTV (more common for larger or commercial sites) | £1,500 |
| Broadband Internet/phone line installation (often included in electrical) | £350 |
| Drywall/plasterboarding | £2,500 |
| Plastering | £2,300 |
| Insulation (wall, ceiling, and floor, including acoustic flooring) | £3,250 |
| Bathroom(s)/en suite(s) supply and fit | £5,500 |
| Kitchen(s) supply and fit | £3,450 |
| Carpentry, second fix | £2,500 |
| Plumbing, second fix | £2,500 |
| Electrical, second fix | £3,250 |
| Fire alarm second fix and fire protection measures | £750 |
| Ironmongery supply and fit | £1,475 |
| Windows (replacement or refurbishment) | £3,250 |
| Painting and decorating | £4,100 |
| Fixtures and fittings | £4,350 |
| Exterior garden/landscaping works | £400 |
| Bike and bin storage creation (often a planning requirement) | £850 |
| Carpet supply and fit | £1,800 |
| Appliances (oven[s], washing machine[s], dishwasher[s], etc.) | £2,250 |
| Furniture (if being rented or sold furnished) | £4,500 |
| Builders clean | £400 |
| Contingency (about 10%) | £7,173 |
| Total development cost | £78,898 |
Note: All costs are simplified to include labor and materials, although for further accuracy, these two elements should also be separated. All costs will vary depending on the type and size of your own project.

If you're planning on doing more developments in the future, it's well worth signing up for trade accounts with key suppliers of materials. It'll save you money (trade customers often get better prices than regular retail customers), and you'll get more favorable payment terms.
Build in a contingency
It's clear that you'll need to monitor your cash flow extremely well throughout the project, particularly if you're funding the project through development finance because you'll need to plan carefully for loan installments. But it also helps to build a contingency fund into your development budget at the outset.

The appropriate contingency depends on the scale of the project, the budget, and your risk profile. Ultimately, the bigger the contingency, the better, certainly in your early days, but 10 percent to 15 percent is a fairly standard rule of thumb. As you grow in confidence and experience, you may find you can get away with a smaller contingency of around 5 percent to 10 percent, especially on smaller sites. It's a trade-off between using the cash available wisely (because you'll likely be paying interest on it!) and maintaining a safety buffer for unforeseen circumstances or delays. For larger projects I tend to keep a larger buffer.
Create a realistic schedule
In addition to creating a detailed budget, you'll also need to create a detailed schedule that shows the different stages and trades involved, how long each stage will take, and when it's supposed to take place. The following figure shows an example schedule for the conversion of a large family home into a multi-tenant HMO.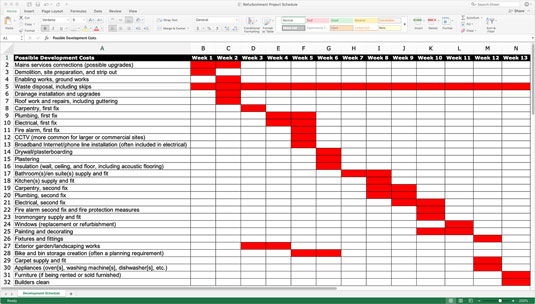 Example schedule for a refurbishment project.
There's a natural order to the work flow on a typical project, as illustrated in the example schedule. As a very obvious example, a plasterer can only come and do his thing after the walls have been built!
As you get quotes from builders and tradespeople, be sure to ask them how long they'll need to complete the work, but also ask them what needs to have been completed before they can start. This will inform the order of work and your overall schedule. Learning how the trades work together and overlap each other is a key part of successfully project managing a real estate development.
Microsoft Project is a really useful tool for planning a project schedule. In addition, I like to pad out or overestimate each stage ever so slightly to build that little bit of contingency into my schedules. You may want to do the same.
Communicate to keep the project on track
After the project is up and running, you or your project manager will need to keep a close eye on the project from start to finish.

Good communication is key to keeping a project on track. So, if one part of your project is running slightly behind schedule, and that means your plumber may have to delay his work by a week, you need to keep that plumber (and any other future trades) informed as you go.

The last thing you want is to lose good tradespeople because delays or changes to the schedule haven't been properly communicated. Similarly, if anything changes about the plans or specifications for the work (not ideal, but it does occasionally happen), you need to be informing everyone who needs to know as early as possible.

Most projects are a fluid process, and it's not uncommon for timing and costs to shift slightly as the project progresses. Therefore, it's vital that you continually communicate with your team and continually monitor and update your budget and schedule as you go along.
Prepare the property for sale or rent
Whether you're selling or renting the property, you want to present an attractive finished product that's perfectly tailored to your target audience. Most buyers (and renters, for that matter) will look at multiple properties before they make a decision, so you want your property to stand out from the crowd and make a great impression.
Sell buyers on a lifestyle, as well as a property
Before you list the property, consider staging or dressing the property to make it attractive. This means temporarily furnishing the property so it looks like a home rather than an empty property.

Dressing a property is an additional cost to factor into your budget, but it's usually money well spent. In my experience, it's much harder to sell an unfurnished property because people struggle to visualize how they'd use and live in an empty space. But when the property is beautifully dressed, you're painting a compelling picture of what it's like to live there. In essence, you're selling a lifestyle as much as a property — which, again means you absolutely need to know your target audience and what would appeal to them.

If you have zero flair for design, consider connecting with an interior designer as part of your dream team. Particularly if she specializes in presenting properties for sale, she'll have useful contacts for renting furniture at a good price, which cuts down the expense and hassle for you.

For larger projects, you may be looking to sell off-plan (before the project is completed). In this case, it's well worth having good-quality computer-generated imagery (CGI) drawn up to help prospective buyers visualize the end result. And if it's a multi-unit development, you could complete one unit first and present it as a "show home."
If you're renting out the property
For a rental property, you have the option of renting it out furnished or unfurnished. There are pros and cons to both, but in my experience tenants generally prefer the simplicity of a furnished property. You can also charge more in rent if the property is simply ready to move into.

One option may be to furnish the property but offer prospective tenants the choice to rent the property with or without the furniture. That way, you're able to market the property to a wider audience, and you get to present the property in a more attractive way (like buyers, renters like to see furniture in a space because it helps them visualize living in the property).
About This Article
This article is from the book:
This article can be found in the category: